When it comes to fat burners and fat loss supplements, you want them to not only boost metabolism, but also give you a nice hit of energy so you can maintain focus whilst on a calorie deficit. When you look at the strength of a fat burner, the level of stimulants such as caffeine, bitter orange extract and others stims are really what sets it apart from each other. As such, we've compiled a quick guide on the 10 strongest fat burners you can purchase in 2016.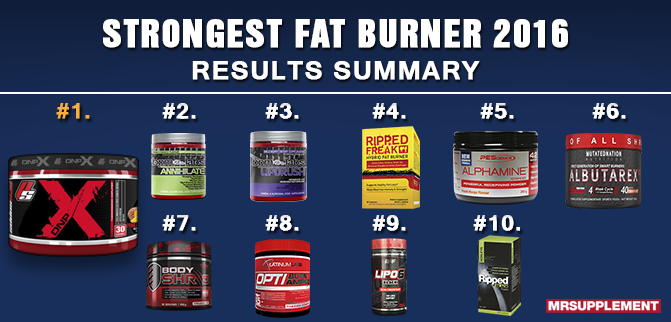 #1. Pro Supps DNPX
Not for the faint hearted, Pro Supps DNPX is pushing the boundaries with around 400mg of caffeine and stimulants per serve. The rest of the supplement is made up of quite popular fat loss ingredients such as garcinia cambogia, African mango, forskolin, raspberry ketones, acetyl l-carnitine and diuretics such as dandelion root. Although the other ingredients could do with larger doses, if you're looking for a quick and strong energy boost, get your hands on DNPX.

#2. BPM Labs Annihilate
Although Annihilate utilises a proprietary formula, you can tell they haven't skimped on the stimulants. Each serve of Annihilate knocks you back with an intense hit of energy, which will have you rearing to go, whether it's during your training sessions or at work. Annihilate is definitely not for first timers, and it's recommended you start off with a half or even a quarter dose.


#3. BPM Labs LipoRush
The slightly less stronger cousin of Annihilate, BPM Labs LipoRush is still pretty damn strong compared to most products in the category. It actually uses an extremely similar formula to the Annihilate, so it's puzzling as to why BPM Labs decided to create two versions of very similar products. The stimulants have been shifted around though and the levels aren't as high as Annihilate, but it's still recommended you take a smaller serve on your first go.


#4. PharmaFreak Ripped Freak
Designed to supercharge your metabolism, PharmaFreak's Ripped Freak is one of the most popular fat burners on the market and is also one of the strongest. Edging up to 350mg of caffeine per single capsule, Ripped Freak is perfect for those who want a serious energy boost along with strong appetite suppression. It also doubles as a handy pre workout for those days you don't feel like drinking a pre workout powder.

#5. PES Alphamine Advanced
PES Alphamine Advanced is advertised as the fat burner which will help selectively burn fat, but still preserve lean muscle mass. This is thanks to the addition of Alpha Hydroxy Isocaproic Acid or Leucic Acid. Also known as HICA, this ingredient is a metabolite of leucine, which is the main amino acid responsible for kick starting muscle building mechanisms. Aside from that, Alphamine Advanced is an incredibly strong fat burner and a great option for those who are suffering a serious plateau.

#6. Mutated Nation Albutarex
Mutated Nation may not be the most well known brand on the market, but their fat burner Albutarex has a bit of a cult like status. Albutarex is made up of an interesting range of ingredients from stimulants to diuretics to mood and focus enhancers. It's a popular fat burner for those who are close to their goal and want to take it further and achieve that dry, shredded look.

#7. Body War Body Shred
Recently reformulated and re-released, Body Shred is still one of the strongest fat burners around. With anywhere between 250-300mg of stimulants, Body Shred offers a transparent formula that offers long lasting, crash free energy as well as improved metabolism. The formula also easily doubles as a pre workout and is definitely going to be a hit with trainers. 

#8. Platinum Labs Optiburn Amped
The formula for Optiburn Amped is very similar to many other products in this list, albeit with a slightly lower dose of caffeine and other stimulants such as synephrine. The formula focuses on boosting metabolism, cognitive performance and also has diuretic ingredients thrown in to limit water retention and remove any excess water weight. Energy wise, this thing will still give you a generous kick but is well suited to beginners to the category.


#9. Nutrex Lipo 6 Black
Nutrex has had a major overhaul over the past year, both to their range and to their packaging. Lipo 6 Black is a simple fat burner, but one of the companies most enduring supplements. The product is concentrated with roughly 200-250mg of stimulants per 1.4g serve along with a few metabolism boosters and mental focus enhancers. The new Lipo 6 Black is available in powder form rather than capsules.


#10. Horley's Ripped Black
If you're after long lasting energy support, you can't look past Horley's Ripped Black. Although you don't normally associate the Horley's brand with fat burners, Ripped Black is actually one of the companies standout products. For those who are new to fat burners, 1 capsule is more than plenty, while more advanced users will want to stick with 2 caps/day. The formula is reminiscent of the original ECA stack (ephedrine, caffeine and aspirin), but much safer. Suitable for trainers of all levels who want to reduce some body fat, Horley's Ripped Black rounds out our list of the strongest fat burners of 2016.   

Strongest Fat Burner of 2016
If you're looking for a strong fat burner and pick me up for 2016, look no further than the products on this list. Each of them are going to not only super charge your metabolism, but ensure you're wide awake and energetic enough to tackle your training sessions, your diet and your weight loss efforts. For more information on some of the best fat burners on the market, be sure to read our Top 10 Best Fat Burners of 2016 article.