Sprint Training Improves 5km Run Performance
Basic human nature dictates that when presented with multiple means of achieving a particular end, individuals invariably chose the option that seems easiest, takes the least time or requires the least amount of effort. Working on this premise, there's been an explosion of research on the application of high-intensity or sprint-interval training (which both involve less time commitment than traditional aerobic training) for improving performance in traditional endurance sports such as running, cycling and swimming.
With the wealth of positive studies now published, there's little debate in scientific circles that sprint-interval training (SIT) protocols can improve endurance performance. However, the focus of research is now more targeted; with studies trying to determine what particular types of endurance performance SIT can improve. For example, if an individual has a 5km running race approaching, while another has a half-marathon (21.1km), should the nature and type of SIT be different for each individual?
The latest study to examine this issue was concerned with the effect of a short 4-week sprint interval training program on 5-km run performance in a group of otherwise, apparently healthy young men (18-25 years). Importantly, none of the subjects had participated in any structured aerobic exercise training in the prior to taking part in the study. 20 guys were allocated to the SIT group and 10 to the control group.
Administered by Federation University in Victoria, the SIT regime consisted of 3 sessions a week, with each session comprised of 4-8 maximal 30-s running sprints interspersed with 4-mins of passive recovery. Prior to each session, participants completed a standardised warm-up that entailed a 5-min aerobic warm-up, dynamic stretches and some short runs at approximately 70, 80, 90, and 100% effort.
The SIT volumes increased gradually from 4-8 sprints over the 4-week intervention as shown in the table below. Note the 'Training sprint time' for each session as an indication of just how little time was spent exercising rigorously. Herein lies the appeal of SIT.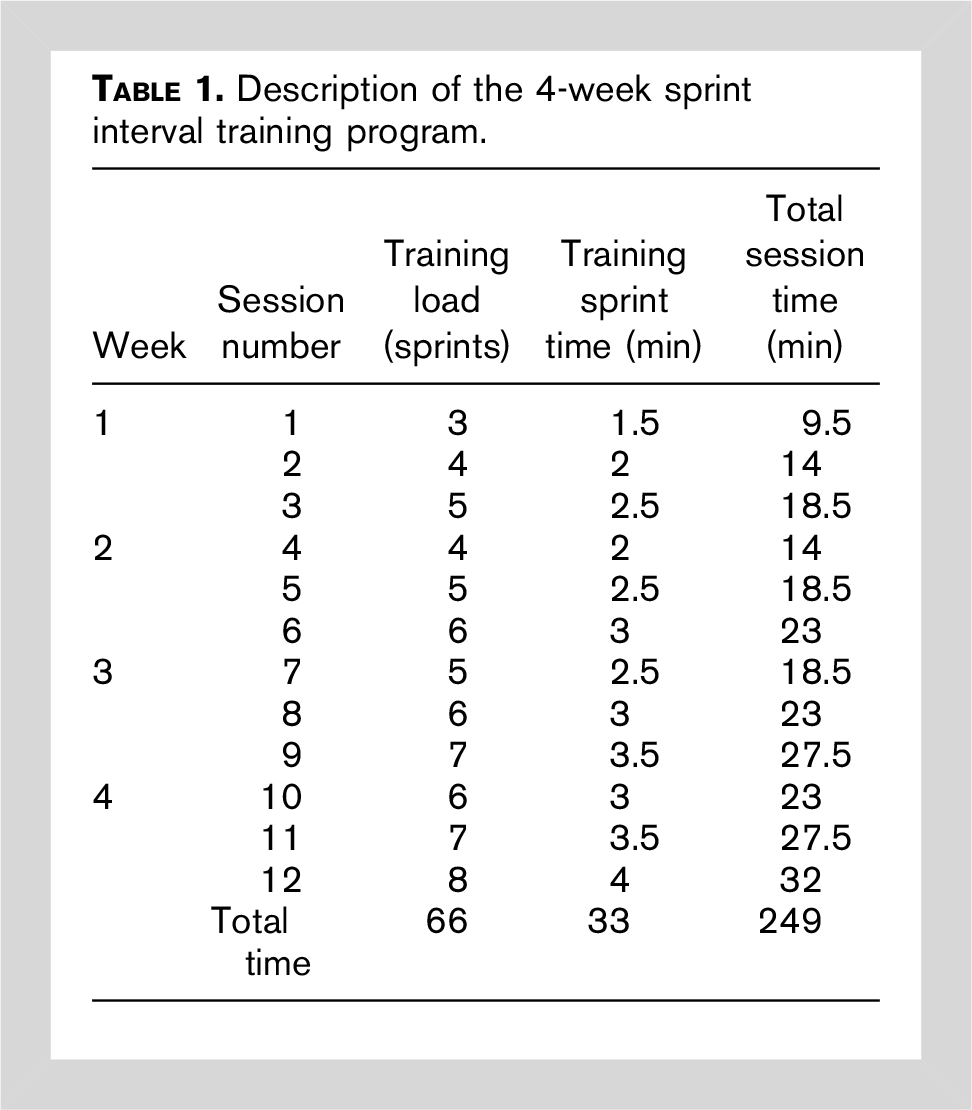 To test the effect of the SIT program, researchers had subjects perform a VO2max test and a 5-km running time trial before and immediately after the study.
One criticism of the study is the researchers did not have the control group take part in any formal exercise program/training (other than any normal exercise they were already partaking in).
In similar studies, it's common for researchers to have the control group perform a more typical aerobic exercise regime such as 3 x 20-30min jogs a week. Using such models, scientists have been able to show that SIT regimes are much more time effective as they tend to produce similar or better improvements in fitness/performance.
As readers might expect, compared to the control subjects, those who undertook the SIT program exhibited a significant improvement in 5-km run performance and VO2max, as seen below. Note that not everyone saw an improvement in their VO2max, but everyone showed a reduction in the 5-km running time.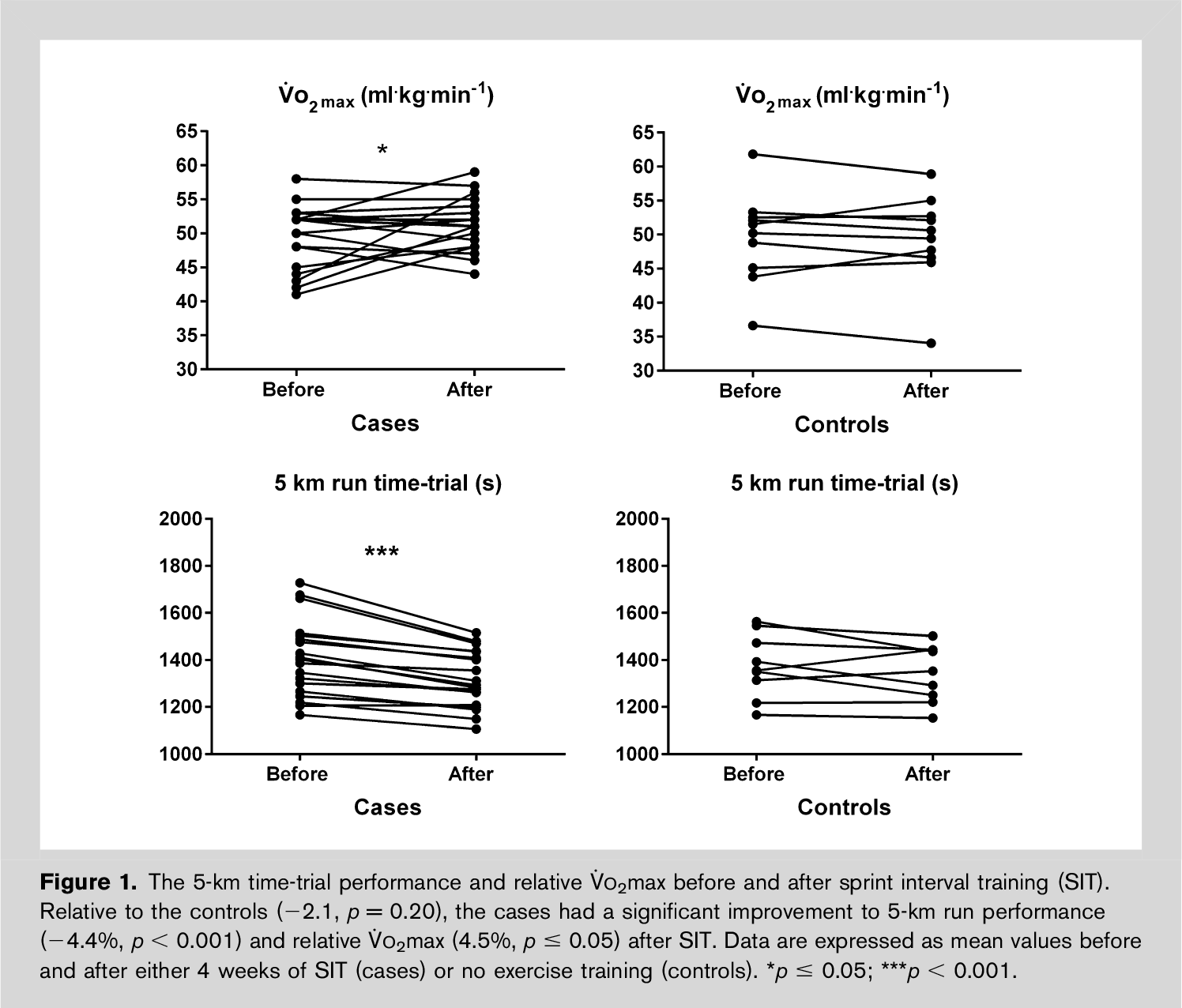 What makes this study particularly relevant and exciting is that it involved your average Joe Bloe who doesn't take part in regular exercise and subjected them to 3 weekly sessions where the total time spent exercising never exceeded 4-mins - and yet they still experienced an improvement in VO2max and 5-km run performance. If that doesn't provide adequate motivation for the average individual seeking a time-efficient means of improving their fitness – then it's hard to imagine what will.
Denham J, et al. Four weeks of sprint interval training improves 5-km run performance. J Strength Cond Res. 2015;29(8):2137–2141.