Species Somalyze Review

Species Somalyze is pitted as a night time sleep aid formula that doubles as a fat burner. Its key attribute is that it's a stimulant-free night time fat burner and sleep aid. Known for releasing products with a bit of a twist, the average gym junkie will probably not be surprised to see something like this from Species. But how does the product really stack up on paper. We take a look in this review.

Species Somalyze Highlights
The obvious highlight of Somalyze is that it's one of the only fat burner/sleep aids on the market. The original US version came in capsule form, but with the help of their Australian distributor (Flush Fitness) Species have created a powdered version suitable for the Australian supplement market.
Species Somalyze Ingredients
As far as fat loss ingredients go, Somalyze has one key active in the form of acetyl-l-carnitine. Interestingly, while Species disclose the amount of many of the sleep actives in the product, they don't disclose how much acetyl-l-carnitine is in there. However, according to the order of ingredients, acetyl-l-carnitine is listed before phenibut, which is present at 500mg per 2.82g scoop. Therefore, one can deduce there is at least 500mg of acetyl-l-carnitine per serve.
Magnesium, zinc and vitamin B6 are present at more or less token amounts and not in particularly bioavailable forms. Present at 100mg each per serve, it's hard to say whether Passiflora incarnate or mucuna pruriens will have much therapeutic effect. The other fat loss active in Somalyze is a relatively unknown ingredient called oleoylethanolamide (OEA). OEA is a molecule produced in the body that is responsible for the feeling of satiety after meals. While the research on OEA is still in its infancy, there is some data suggesting it could act as an appetite suppressant when taken orally1.
Species Somalyze Pros & Effectiveness
At least 500mg of acetyl-l-carnitine and phenibut are pretty solid doses and what's more, these are the two ingredients that are likely to pack the most punch in the product. They are both likely to be chiefly responsible for the good results anecdotally reported for Somalyze. Excessive drowsiness is always a concern with any type of sleep aid. Sleep supplements containine phenibut sometimes have a reputation for inducing a higher level of drowsiness after use. But the acetyl-l-carnitine in the formula may serve to buffer this.
Species Somalyze Cons
Because there is evidence indicating oral supplementation with acetyl-l-carnitine can raise dopamine levels, traditional advice has been to take it in the morning so as to avoid possible side-effects such as increased alertness or arousal, which may be undesirable at night. With acetyl-l-carnitine having been round for a while, there are bound to be those who refrain from taking it at night and therefore might see the Somalyze formula as somewhat of a contradiction. On the one hand, Species are to be credited for disclosing the levels of a number of the key actives, however, there are a couple of actives for which the dosage has not been disclosed. This is rather perplexing and somewhat frustrating as a user as one can't help but ask why the levels of other actives like phosphatidylcholine and acetyl-l-carnitine were not disclosed.
Species Somalyze Taste & Mixability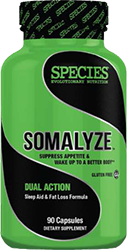 Somalyze has a pretty tangy taste, which is no surprise given its high content of acetyl-l-carnitine and citric acid. As such it dissolves in a flash but because it's only a 2.82g scoop, it can be consumed in one mouthful of water or juice.
Species Somalyze Verdict
Species deserve credit for coming up with the idea of a combined fat burner and sleep aid. The supplement has a quality list of actives, which on paper should ensure the formula works well. What may appeal most to the average user is the idea of burning more fat while sleeping. Definitely worth a try if you after a fat burner with a bit of difference.
Romano A, et al. Oleoylethanolamide: a novel potential pharmacological alternative to cannabinoid antagonists for the control of appetite. Biomed Res Int. 2014;2014:203425.