Latest Research - Smiling and Exercise Performance
What is the central mechanism governing fatigue when exercising? That's a hot topic in exercise science at the moment and one for which a few theories exist. The most recent study contributing to the research in this area explored the 'psychobiological model of endurance performance'. This model proposes that the point at which people stop endurance exercise (i.e. exhaustion) is determined by perception of effort and potential motivation.
To break it down, perception of effort is the conscious sensation of how hard, heavy and strenuous a physical task is whilst potential motivation is the highest effort a person is willing to exert in order to succeed in a task. This means that when the effort required by endurance exercise is perceived to exceed potential motivation, or when perception of effort is so extreme that continuing the task seems impossible, the person consciously decides to stop exercising.
According to this effort-based decision-making model, any factor that influences perception of effort and/or potential motivation influences endurance performance, even when the physiological capacity to perform endurance exercise is unchanged.
So then, the question for researchers from the Psychology of Elite Performance, at Bangor University and the Endurance Research Group, from the University of Kent, was whether certain subliminal (i.e. non-conscious) visual cues relating to affect (i.e. emotion) and action could alter perception of effort and therefore endurance performance.
To test their theory, researchers devised 2 experiments. The first took thirteen young health and fit individuals who were subliminally primed with happy or sad faces as they cycled to exhaustion in a counterbalance and randomised crossover design. An example of the faces is shown below.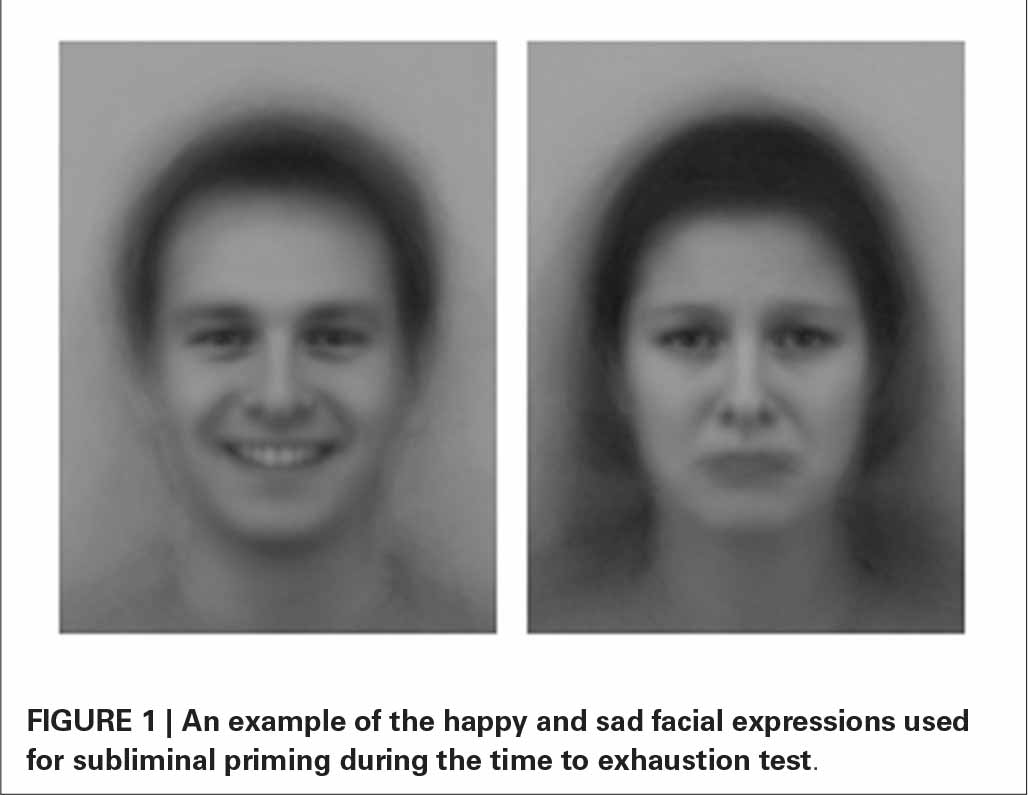 The procedure for the scanning visual vigilance task involved presenting a prime (i.e. some sort of picture/image) sequentially every 4996 ms. Each prime sequence consisted of a white fixation cross that was displayed on a black background in the center of the computer screen (1000 ms). This was instantly followed by a facial expression (16 ms) that was backward masked by a briefly flashed black and white pat- tern (130 ms). Following the backward mask, the screen either remained black (3850 ms) or alternatively a green circle of 3 cm diameter appeared against the black background in a random location (3850 ms). The next prime sequence was commenced immediately after this. In order to prevent habituation to the affective facial expressions, two thirds of the prime sequences consisted of a neutral face with the remaining one third consisting of the relevant affective facial expression
Experiment 2 involved just one subject and was designed to assess the effects of subliminal priming with action and inaction words on perception of effort and endurance performance during cycling exercise. As such, one male participant(age 22 years, Peak Power Output 287W, P Vo2 max 58.3 ml/kg/ min) who was an experienced endurance athlete visited the laboratory on 12 separate occasions where the participant was randomly allocated to 6 experimental treatment conditions of either subliminally primed action words (ACTION, GO, LIVELY and ENERGY) or inaction words (STOP, TOIL, SLEEP, and TIRED). The procedure for the scanning visual vigilance task was identical to that of experiment 1 other than the fact that subliminally primed words replaced subliminally primed affective facial expressions that were used in experiment 1.
Both experiments resulted in a significantly improved performance in the time to exhaustion test and a significantly lower rating of perceived exertion. What's more, this is the first study to show that subliminal visual cues relating to affect (i.e. observable expressions of emotion) and action can alter perception of effort and endurance performance. In accordance with the authors 'psychobiological model of endurance performance', this study shows that non-conscious visual cues may therefore influence the effort-based decision-making process that is proposed to determine endurance performance.
What makes the findings of the study fascinating is the implications for individuals partaking in competitive endurance events, who naturally encounter a variety of non-conscious visual cues during their race. It would seem that if you are interested in maximising the performance of individuals who happen to casually glance at you – then you should focus of happy positive facial expressions and words of affirmation and action.
Blanchfield A, et al. Non-conscious visual cues related to affect and action alter perception of effort and endurance performance. Frontiers in Human Neuroscience. 2014;8(967):1-16.