SizeOn vs Xtend
Intra workout supplements are important for helping to fuel your workouts and improve recovery. The current ruler of this domain is Scivation Xtend, which was the original intra workout supplement and still reigns supreme today. A product it often has to contend with is the newer and more innovative Gaspari SizeOn. How do these two products stack up when compared side to side?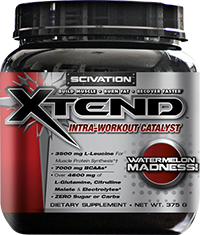 SizeOn vs Xtend Ingredients
Despite the fact that both these products are intra workout supplements, they are actually quite different in ingredients used. Xtend is a relatively simple supplement made up of the three BCAAs, glutamine, citrulline malate, and electrolytes. On the other hand, SizeOn contains the ingredients in Xtend (minus citrulline) but also incorporates a blend of four carbohydrates (from fast to slow digesting), whey protein hydrolysate, three forms of creatine, and other amino acids. It should be mentioned that the glutamine in SizeOn is not merely the free form glutamine, but is in fact the superior L-alanyl-L-glutamine, which is a glutamine peptide.
Winner: Gaspari SizeOn – Because it contains also everything Xtend has, but much much more.
SizeOn vs Xtend Dosing
Comparing dosing is quite difficult given that Gaspari were less than forthcoming with their dosing. Their proprietary blend gives little away other than the amount of carbohydrates and electrolytes. On the other hand, each 14.3 g serve of Xtend provides a pretty solid 3.5 g leucine, 2.5 g glutamine, 1.75 g valine, and 1.75 g isoleucine.
Winner: Scivation Xtend – winner almost by default thanks to SizeOn's poor labelling.
SizeOn vs Xtend Effectiveness
Xtend is very good at what it does. It hydrates, preserves muscle mass, enhances recovery, and helps to maintain exercise intensity. However, it must be said that SizeOn does all this better. It is not a low carb formula and as such, provides plenty of fuel for those who care more about performance than anything else. In addition, the added creatine helps to increase strength, especially if you are using this product daily (even on rest days). This is something that Xtend lacks.
We should at this point mention that there is a low carb variety of SizeOn called SizeOn Pre Contest, and there is a high carb version of Xtend called Xtend Endurance. However, neither of these products are as popular as their siblings.
Winner: Gaspari SizeOn – with more comprehensive cutting edge ingredients and a stronger performance focus, you will notice that SizeOn is the more effective product for helping you train.
SizeOn vs Xtend Taste & Mixability
Both products mix well when shaken in a shaker bottle, leaving a clear, cordial like beverage. Both products are very pleasant and easy to drink, albeit on the sweeter side. If you don't have much of a sweet tooth, add more water, which is a good idea anyway given that it will help with hydration. If we had to pick, we would say that Xtend slightly edges out SizeOn in regards to taste.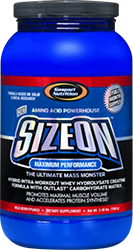 SizeOn vs Xtend Price & Value
The serving size of SizeOn is much larger than Xtend because SizeOn contains far more ingredients. To make a fair comparison, we will compare things on a serve by serve basis. The 1.6 kg SizeOn provides 24 serves, while a 430g tub of Xtend provides 30 serves. At this size, Xtend is a fair bit cheaper than SizeOn, which would therefore make it the better value for money product.
Winner: Scivation Xtend
SizeOn vs Xtend Overall Winner
With all the above considered, Xtend wins for dosing, taste, and value. SizeOn is the ingredient and effectiveness champion. This means that overall, the winner is Xtend by 3 to 2.
Winner: Scivation Xtend