Gaspari Nutrition SizeOn vs BSN CellMass 2.0

Gaspari Nutrition's SizeOn and BSN's CellMass 2.0 are both popular supplements in the intra-workout and post-workout recovery category's to which they belong. But which of the two is considered the better supplement and which one should you get?
SizeOn vs CellMass Ingredients
While SizeOn and CellMass can both be considered as post-workout and blended creatine supplements, they both only share a limited number of ingredients. Let's take a closer look at the ingredients in each supplement:
Creatine Blend – Gaspari SizeOn has decided to utilise three different types of creatine including creatine monohydrate, magnesium creatine chelate and disodium creatine phosphate. CellMass also includes creatine monohydrate, but uses the more popular creatine HCL and creatine anhydrous.
Protein & Amino Acid Blend – SizeOn's blend of proteins and amino acids includes whey protein hydrolysate, branched chain amino acids (BCAAs) and L-Ornithine L-Aspartate. CellMass 2.0 also uses whey protein hydrolysate but instead of BCAAs, uses glutamine and glutamine peptides.
Other Ingredients – Gaspari SizeOn has plenty of other ingredients included as well including plenty of carbohydrates, a fairly comprehensive listing of vitamins and minerals and 6 different ingredients to help support hydration. BSN CellMass 2.0 has no added carbohydrate sources, but does include taurine and banaba extract – two ingredients known to support hydration and insulin sensitivity respectively.
Overall, Gaspari SizeOn has a lot more beneficial ingredients than CellMass 2.0, however uses two inferior sources of creatine compared to CellMass's creatine HCL and anhydrous. However, as long as enough creatine is provided, the use of different creatines isn't a huge issue.
SizeOn vs CellMass Dosing
SizeOn has a huge recommend serving size at 66g compared to BSN CellMass 2.0's tiny 9.7g serve. Let's take a closer look at the breakdown of the more important ingredients:
| | | |
| --- | --- | --- |
|   | Gaspari SizeOn | BSN CellMass 2.0 |
| Creatine (g) | Unknown | Unknown |
| Carbohydrates (g) | 39 | 1 |
| Protein (g) | 7 | 2 |

Unfortunately, both supplements utilise a proprietary formula which is a shame as it makes it hard to analyse and compare the products. However from what we can compare, Gaspari SizeOn contains plenty more carbohydrates and protein, which are excellent drivers of insulin and therefore the absorption of creatine. Unfortunately, neither of the products state just how much creatine is used, but one can only hope that they've put enough in. With a much larger serving size, SizeOn has more potential to include adequate amounts of creatine.
SizeOn vs CellMass Effectiveness
Creatine is one of the most effective ergogenic (performance enhancing) ingredients around and some would argue the most effective ergogenic supplement. However, what many don't know about creatine is that it tends to work best with a spike in insulin levels, which can be created by both carbohydrates and protein. SizeOn's formula, which has 39 times more carbohydrates and 5g more protein will be able to spike insulin levels much better than CellMass 2.0 and therefore help support better creatine absorption. As a post-workout supplement for recovery, Gaspari Nutrition SizeOn also beats CellMass 2.0 thanks to a the inclusion of more carbs for glycogen replenishment, protein and amino acids for muscle recovery and growt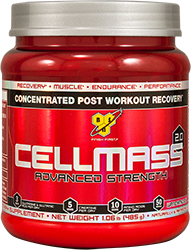 h and plenty of hydration ingredients to help you rehydrate. CellMass 2.0 on the other hand has negligible amounts of these other ingredients.
SizeOn vs CellMass Taste, Flavour & Mixability

SizeOn and CellMass 2.0 are both available in a variety of flavours with 4 flavours each. The supplements taste quite nice and are both quite sweet, however SizeOn has a slight bitter taste due to the inclusion of a higher amount of whey protein hydrolysate. However, the sweetness and the flavours tend to mask this quite well. Both supplements mixes extremely well with minimal frothing and residue. Overall, both products taste great, but CellMass 2.0 probably edges out SizeOn in this category.
SizeOn vs CellMass Price & Value

Gaspari Nutrition SizeOn is not a cheap product at roughly $2.29 per serve versus BSN CellMass 2.0's $1.44 per serve. At an extra 85 cents per serve, this can definitely add up over time. Even though SizeOn has better ingredients and better dosing of ingredients, if you know a little bit about supplements, CellMass 2.0 can definitely be your most cost-effective creatine and post-workout supplement.
SizeOn vs CellMass Winner
Gaspari Nutrition SizeOn and BSN CellMass 2.0 are both excellent supplements in their own right. Similar to Muscletech's Cell-Tech, SizeOn is a comprehensive supplement that takes the guess work out of supplementation and is ideal for beginner's and those who aren't too stressed about price. CellMass 2.0 on the other hand provides you with a good base, but you would definitely need a better knowledge and understanding of sports supplementation to make it work for you. For its user-friendly nature, comprehensive listing of ingredients and higher amounts of these ingredients, Gaspari Nutrition SizeOn is the overall winner by a small margin.
Overall Winner: Gaspari Nutrition SizeON
Although we try to be as objective as possible, we understand that opinions can vary between individuals. As such, the results of this comparison may not be agreed upon by everyone and should only be used as a guide.