Scivation Xtend RAW Review
Scivation's Xtend is the company's flagship product and by far their best selling item. So it's no surprise that they've been trying to make the most out of the Xtend name by releasing a range of different supplement under that title. Their latest supplement featuring the Xtend title will be the new Scivation Xtend RAW.
Scivation Xtend RAW Review & Ingredients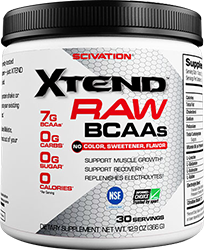 Scivation's new Xtend Raw isn't anything new or particularly novel, it's simply the original Xtend but without the flavouring. So there's still plenty of BCAAs, citrulline, glutamine and electrolytes, but you're looking at a natural flavoured product that is suitable to mix in with your protein shakes or any other beverage of your choice. It's ideal for those who want all the goodness of the regular Scivation Xtend without having to drink even more fluid.
Scivation Xtend RAW Flavours, Taste & Mixability
Scivation Xtend Raw is natural flavoured so doesn't really taste like anything. It mixes just as easily as the original Xtend though so you'll find it mixes easily with all your other supplements.
Scivation Xtend RAW Release Date
The new Xtend RAW from Scivation will be available for sale very soon and will slowly make its way to Australia and other markets by around August 2015.