Scivation Xtend Elite Review
Quick Scivation Xtend Elite Summary Points
Scivation Xtend Elite is a branched chain amino acid (BCAA) powder that gives you power, endurance and reduce fatigue to improve workout intensity & fasten workout recovery.
Xtend Elite is a versatile supplement that is best taken during your workout for maximum results.
Contains the revolutionary patented performance enhancing ingredient Peak O2.
Delicious flavours & easy to drink.
Xtend Elite is Scivation's premium top shelf "Xtend" intra-workout amino & electrolyte based formula.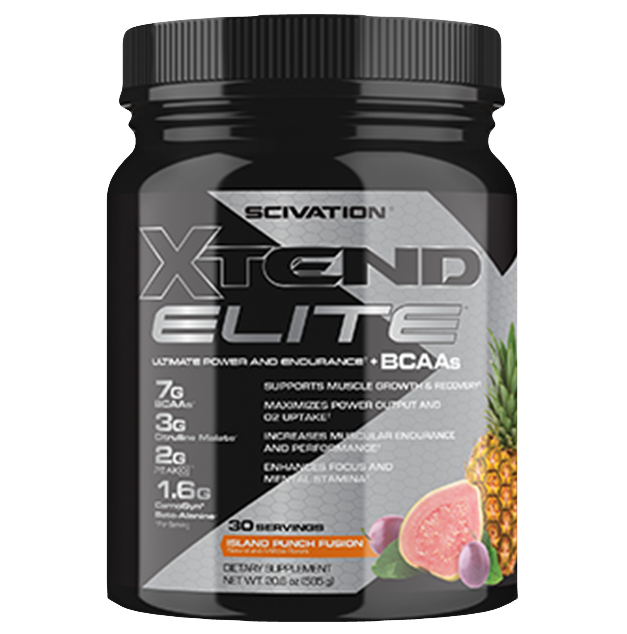 For lovers of Scivation Xtend, Scivation have added another hit supplement that is formulated to give you more power, more endurance whilst providing you with a clinical dose of branched chain amino acids (BCAAs) to help you reduce muscle soreness and fasten recovery.
Scivation Xtend Elite Highlights
Peak O2 – patent pending endurance enhancer
Carnosyn beta alanine – supports muscle endurance
Branched chain amino acids (BCAAs) – 7 grams
Citrulline malate – 3 grams
Supports muscle recovery
Stimulant free energy that lessens stress factors
Scivation Xtend Elite Ingredients & Dosage
Scivation Xtend Elite ingredients are as follows:
L-Leucine – 3500mg
L-Citrulline Malate (1:1) – 3000mg
L-Glutamine – 2500mg
Peak O2 Performance Blend (Cordyceps, Reishi, King Trumpet, Shiitake, Lion's Mane and Turkey Tail) – 2000mg
L-Isoleucine – 1750mg
L-Valine – 1750mg
Carnosyn Beta alanine – 1600mg
Electrolyte Blend – 1140mg
Sensoril Ashwagandha (Withania somnifera) root and leaf extract – 125mg
Each Scivation Xtend Elite comes in a tub of 580 grams and approximates to 30 servings.
Scivation Xtend Elite Benefits, Pros & Effectiveness
Although the formulation for Scivation's Xtend Elite is fairly straight forward, we'll break down the ingredients to review the highlights and benefits of using Xtend Elite BCAA. Scivation have focussed on helping trainers gain better pumps and fasten recovery time. This is evidently shown by including a full clinical dose of branched chain amino acids (BCAAs) as well as 3 grams of citrulline malate for pump. The formula also boasts effective doses of beta alanine as well as glutamine that will improve performance and deliver strong recovery at and after the gym.
On top of this, Scivation have done their research and included a significant ingredient known as Peak O2 that is known for increasing endurance. Peak O2 also helps to maximise power and support oxygen uptake. Another interesting addition to this formulation is 125mg of Sensoril Ashwagandha which is there to provide natural stimulant-free energy and reduce stress factors in order for you to focus on training. The formula also has an additional electrolyte blend which is perfect to keep you hydrated throughout your workout and replenish lost electrolytes during exercise. Thanks to the positive reviews and its effectiveness, Scivation Xtend Elite is definitely a staple to add into your supplement regime.
Scivation Xtend Elite Negative, Cons & Side Effects
At the time of writing, Scivation Xtend Elite does not have any known side effects. Some may find that the flavours a bit too sweet but that can be easily adjusted to suit the individual's taste. Aside from these factors, Xtend Elite blend of ingredients are all efficaciously dosed.
Scivation Xtend Elite Taste, Flavour & Mixability
Scivation Xtend Elite only comes in two flavours. The flavours include Island Punch Fusion and Sour Gummy. Scivation have been known for not only producing top quality supplements but they also produce amazing flavours that are extremely easy to drink. The Sour Gummy flavour is recommended for those who crave for something sweeter. Overall, the flavours are refreshing and tasty. The mixability of the product is noticeably easy and dissolves without clumping.
Scivation Xtend Elite Verdict
Scivation Xtend Elite is great quality product that will help trainers who are looking to improve the areas of performance, endurance, recover and keep hydrated. Xtend Elite contains a range of quality ingredients that are effective and are all at clinical doses. Scivation Xtend Elite can be used for all types of trainers, particularly with trainers who want to increase workout recovery & lean muscle hypertrophy.