Scitec Turbo Ripper Review
Scitec Nutrition have had a relatively quiet start to 2014 with only a few new releases to their range. However the arrival of Spring in the Northern hemisphere has brought with it a renewed energy in what is considered one of the largest supplement companies in Europe. One of Scitec Nutrition's most exciting new releases is a fat burner known as Turbo Ripper, one of the first to contain the new ingredient NewCaff™, a sustained release caffeine compound.
Scitec Nutrition Turbo Ripper Highlights
Effective fat burner using classical ingredients well known for their fat and weight loss ability.
Addition of NEWCAFF - a proprietary compound for sustained released caffeine to minimise its side effects.
Ideal fat burner for newcomers to the category
Scitec Nutrition Turbo Ripper Ingredients & Dosage
The new fat burner from Scitec Nutrition contains a total of 7 core ingredients. These include:
Acetyl L-Carnitine HCL (1,500mg) providing L-Carnitine (1,005mg)
Citrus Aurantium (500mg)
Green Tea Extract (500mg)
L-Tyrosine (500mg)
NEWCAFF™ providing microencapsulated sustained release caffeine (133mg)
Caffeine (57mg)
Cayenne Pepper Extract (50mg)
All these ingredients and the above amounts are included in a serving size of 4 capsules.
Scitec Nutrition Turbo Ripper Pros & Effectiveness
Scitec Nutrition's latest supplement doesn't include any novel ingredients per se except for NEWCAFF™, the sustained release caffeine compound which has been in production since late 2013. All the listed ingredients above have been shown to have some ergogenic effect in terms of fat and weight loss via increased thermogenesis and also overall metabolic rate. One of the many cons of most fat burners has been the high doses of caffeine and other stimulants contained in the products, which for those uninitiated could result in some negative side effects such as jitteriness or uncomfortable increases in heart rate. Even though Turbo Ripper contains in total 200mg of caffeine per serve, this is slowly released over a period of 4 hours, allowing for a smoother and more sustained effect time without any of the unwanted side effects.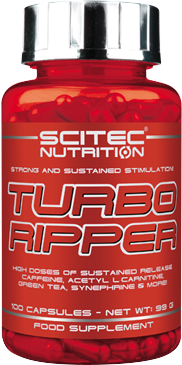 Scitec Nutrition Turbo Ripper Cons
There are no real cons to Scitec Nutrition Turbo Ripped. As previously mentioned, all the ingredients are well known and have been studied for their effectiveness with fat and weight loss. Some of the dosing for the ingredients could be improved; for example synephrine typically works best at doses of around 50mg in a single dose or 10-20mg three times a day. Green tea extract also works best at high doses of up to 400-500mg of catechins, however some evidence suggests beneficial effects at lower levels as well.
Scitec Nutrition Turbo Ripper Taste & Mixability
Scitec Nutrition's Turbo Ripper will be initially available in capsules only, however they may choose to reformulate the fat burner into a powder, which will make it easier for the supplement to get into the Australian market.
Scitec Nutrition Turbo Ripper Verdict
Turbo Ripper from Scitec Nutrition is a good new addition to the brand's already huge supplement range. It is a solid fat burner with a range of well researched fat and weight loss ingredients. While some of the ingredients aren't as well dosed as they could be, the addition of a novel sustained release caffeine compound takes away many of the negatives associated with many of their competitor's fat burners. If you're new to fat burning supplements, then Turbo Ripper is definitely an excellent supplement to start off with.