Planning a good hardgainer diet is the most time consuming, but most important part of succeeding in gaining muscle and mass. You can workout as intense and with as much volume as possible, but if you're not meeting your nutrient requirements needed to gain weight, nothing is going to happen. This is why it's important to spend a bit of time developing this plan and making sure it works for you. For more tips on making the most out of your diet plans, why not read our 'Hardgainer Diets' article as well as our 'Meal Planning' article. To help get you started however, we've formulated a 7 day sample hardgainer diet plan which you can easily tweak to help you build that muscle while you formulate your own diet plan.

Mr Supplement Hardgainer Sample Diet Plan - Part 1

For convenience sake, this diet plan is tailored for a male weighing 61-70kg who eats 3 main meals a day as well as 2 snacks. This sample hardgainer diet plan will also exclude supplements which you can easily incorporate in by replacing it with a snack or two. Better yet, you can have your supplements on top of your snacks and main meals to bulk up even faster! Unlike many other hardgainers diet plans, this will include a lot more variety and not just variations of the broccoli, sweet potato, regular potato, rice and meat mix.
Part 1 of the diet plan will only look at main meals while Part 2 will look at snack options. This sample hardgainer diet plan aims to achieve a total daily intake of at least 3524 calories, 485g of carbohydrates, 176g of protein and 97g of fat.
Monday – 3083 calories / 295.1g carbs / 214.3g protein / 109.4g fat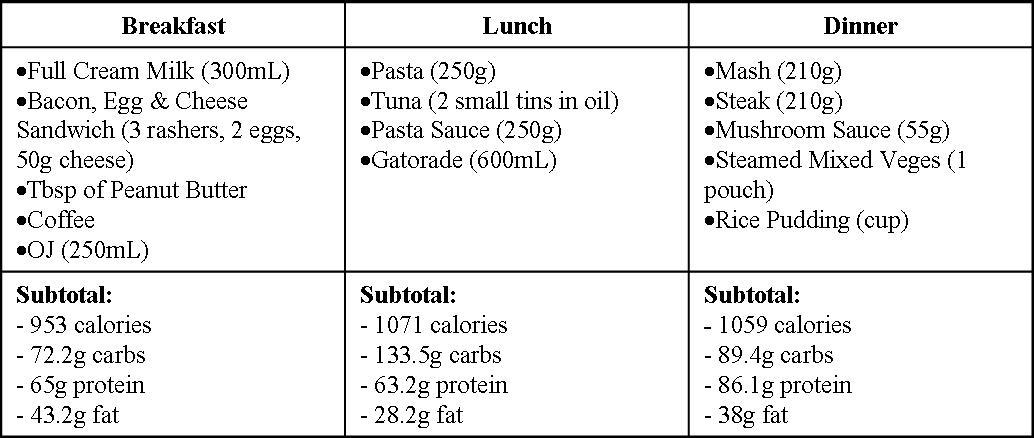 Tuesday – 3054 calories / 314.6g carbs / 191.5g protein / 104.5g fat

Wednesday – 2974 calories / 332.2g carbs / 128.3g protein / 132.7g fat

Thursday – 2662 calories / 308.8g carbs / 125.7g protein / 88g fat

Friday – 3019 calories / 267.5g carbs / 157.6g protein / 90.8g fat

*Under 18 years can replace beer with ginger beer or juice.

Saturday – 3155 calories / 318.2g carbs / 187.2g protein / 115.3g fat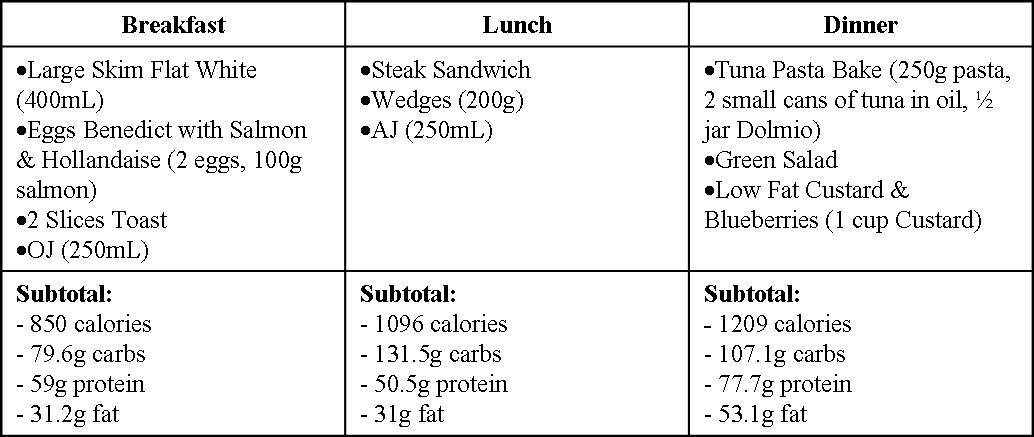 Sunday – 3047 calories / 352.3g carbs / 154.4g protein / 105.6g fat

Mr Supplement Hardgainer Sample Diet Plan - Breakfast, Lunch & Dinner

With a hardgainer diet, you main meals should constitute the bulk of your caloric intake. The above sample plan has a rough 25:30:25 caloric distribution of main meals. That is:
Breakfast should provide 25% of your total daily calories
Lunch should provide 30% of your total daily calories
Dinner should provide 25% of your total daily calories
This will leave 20% of your total daily calories to be divided amongst your two snacks.
The above figures are only a rough guide and it's ok to eat a little more or eat a little less at each individual meal. Also make sure to have plenty of leafy green vegetables to get in plenty of nutrients with very little volume. With your main meals out of the way, why not head on over to our 'Mr Supplement Hardgainer Snack Ideas' to find out what types of snacks you can incorporate into your diet plan.
1. Helms ER, Aragon AA, Fitschen PJ. 'Evidence-based recommendations for natural bodybuilding contest preparation: nutrition and supplementation.' J Int Soc Sports Nutr. 2014 May 12;11:20. eCollection 2014.
2. Manore MM, Thompson J, Russo M. 'Diet and exercise strategies of a world-class bodybuilder.' Int J Sport Nutr. 1993 Mar;3(1):76-86.
3. Lambert CP, Frank LL, Evans WJ. 'Macronutrient considerations for the sport of bodybuilding.' Sports Med. 2004;34(5):317-27.