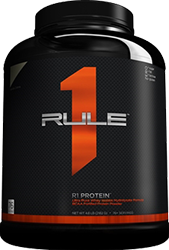 Rule One Proteins is a relatively new US-based kid supplement company that just started to encroach on the Australian market. Probably the biggest thing that stands out about Rule One Proteins is their distinctive, crisp and classy branding. The red on black look stands out easily, making the brand very pleasing aesthetically. Rule One Proteins moto is 'better input = better output' or 'the best input=the best output' so it goes without say they place a premium on quality products.
Rule One Protein Highlights
Simply called 'Protein', the name does little justice to reflect that the product is in fact Rule One's premium protein supplement. Without doubt, it key features are:
Lack of sugar, fat, creamers/fillers, gums
Exclusive use of whey protein isolate and hydrolysate
>3g leucine per serve
Rule One Protein Ingredients
The biggest feature of R1 Protein has just as much to do with what it leaves out as what it contains. With virtually no fat, carbs, or cholesterol and zero added creamers and gums, R1 Protein is one of the purest premium whey proteins available. Being in the same price range as most other whey protein isolates, it's fair to assume that R1 Protein is largely composed of whey protein isolate, with whey protein hydrolysate making up only a small fraction (i.e. ~5-10%) of total protein.
The other key ingredient feature is the inclusion of added branched chain amino acids, giving R1 Protein a total of just over 6g of BCAAs per 25g serve.
Rule One Protein Pros & Effectiveness
With its high protein and bcaa content, R1 Protein is definitely for serious trainers and athletes alike who are looking to maximise muscle recovery and growth resulting from their vigorous training. It's hard to fault a whey protein supplement like this and with its high BCAA content, it's sure to be effective for stimulating maximum protein synthesis following a solid session of weights.
Rule One Protein Negative and Cons
It's hard to find any fundamental flaws with R1 Protein formula. As touched on below, some may dislike the watery texture that comes with the absence of gums and creamers. But it's hard to imageine such users will form a large proportion of the intended target market for the product.
Rule One Protein Taste & Mixability
When tasting R1 Protein, it's easy to feel the lack of creaminess or thickened texture that comes with whey proteins that include common thickeners like cellulose or xanthan gum and your typical creamer mix. The actual flavour is certainly acceptable, pleasant and easily drinkable. We sampled the chocolate fudge variety and it erred on the sweet side, such that only strongly 'sweet adverse' individuals will dislike it.
Rule One Protein Verdict
R1 Protein's sharp look is reinforced by its sharp and strong formulation. With a high protein percentage on a gram for gram basis and added BCAA and glutamine, R1 Protein will more than do its job as far as muscle recovery and growth go.