Quick Summary Points
Rule 1 Cut 10 is a low stimulant fat burner designed for athletes looking to manage their weight & support fat loss
Formulated to enhance mood, mental focus, energy & improve fat metabolism
Rule 1 Cut 10 is a transparent formula that lists all ingredients & its respective doses
Best taken first thing in the morning or before training
Contains zero banned ingredients; suitable for all level trainers
If you're a fan of Rule 1 supplements, Rule 1 has an upcoming release on a brand new fat burner; Rule 1 Cut 10. Judging by Rule 1's success with their protein supplements we expect that the fat burner is just as successful as the rest of their line-up of supplements.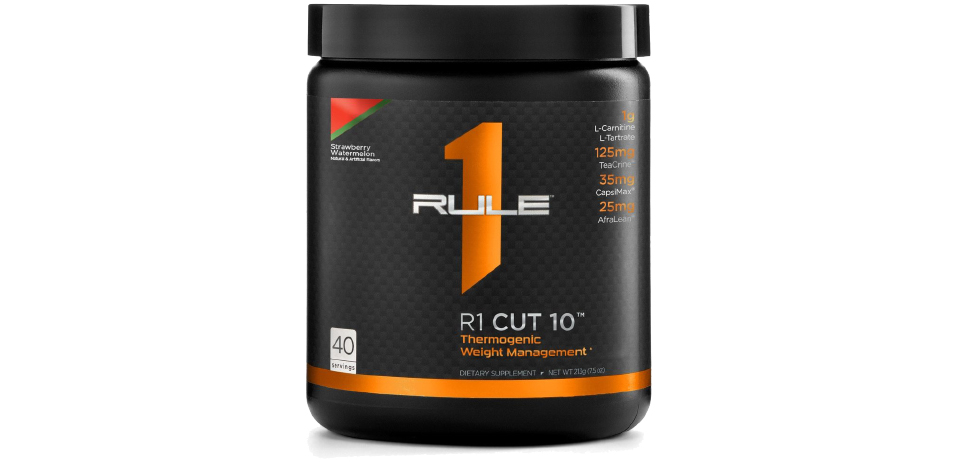 What is Rule 1 Cut 10?
Rule 1 Cut 10 is a highly potent fat burner formulated to help increase metabolism, support weight loss as well as keep your head focussed throughout your workout. Cut 10 is a stimulant based thermogenic that utilises natural sources of caffeine to provide more energy without any jitteriness.
Rule 1 Cut 10 Highlights
Transparent Formula – All ingredients & dosages disclosed
Low Stimulant – Approximately 130mg of natural source caffeine per serving
Zero Banned Substances
No Added Sugar
Rule 1 Cut 10 Ingredients & Dosage
Rule 1 confidently lists their ingredients by providing a fully transparent label:
The ingredients are as follows:
Serving Size 1 Scoop (5.5g)
Calories – 5
Total Carbohydrates – 1g
L-Carnitine L-Tartrate – 1000mg
Ashwagandha Root Extract – 500mg
Yerba Mate Leaf Extract – 300mg
Theacrine 40% (as TeaCrine) – 125mg
Caffeinated Tea Leaf Extract – 100mg
Coleus Forskohlii Root Extract – 100mg
Cayenne Pepper Fruit Extract (Capsimax) – 35mg
Grains of Paradise Seed Extract (AfraLean) – 25mg
Chinese Club Moss Extract (1% Huperzine A) – 5mg
Black Pepper Fruit Extract (BioPerine®) – 5mg
All ingredients used have been thoroughly well-researched and studied extensively.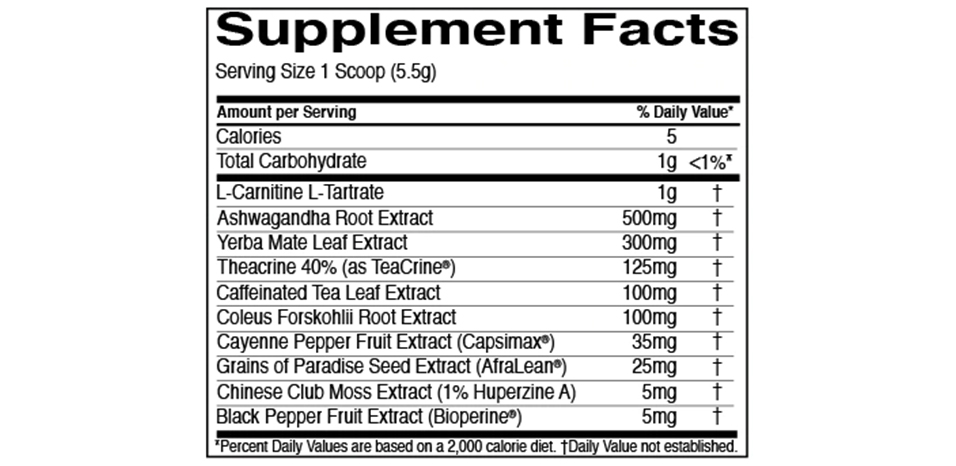 Rule 1 Cut 10 Benefits & Pros
When it comes to supplements, many companies claim that the product offers a variety of benefits and without a doubt you start to wonder if it really does what it claims to do. Although results and effectiveness can vary between each individual, we can break it down by taking a closer look at the ingredients in the formula to make a scientific judgement. Having said that, Rule 1 uses a transparent label which discloses all ingredients in its respective doses; this is an excellent way of letting consumers know what they're getting and how much they are getting.
Rule 1 Cut 10 combines a unique blend of synergistic ingredients that help make the formula one of the most complete, well rounded and comprehensive fat burning and mood-enhancing supplement on the market. Each ingredient is effectively dosed and is designed to support fat loss and enhancing energy levels without causing any jitteriness. L-Carnitine is the active ingredient in this formula and is popular for mobilising fat through our carnitine transport system. It is one of the most important ingredients used for weight loss and is highly effective. Carnitine has been shown to increase your body's ability to transport fat into the mitochondria to burn for fuel during training.
In addition, the formula uses a range of natural sources of caffeine. Caffeine is a common stimulant that helps you lose weight by increasing your metabolism and helping the body use fat for fuel. In essence, it also helps to provide energy during training. In the body, caffeine increases the breakdown of fatty acids that reside in adipose tissue aka belly fat. Once the fatty acids are broken down, they enter the bloodstream and can be burned up by our bodies to create energy.
Aside from caffeine, if you look closely at the ingredients in the formula, Rule 1 has picked some other solid ingredients like yerba mate which not only has the ability to suppress appetite and increased but it is known for its anti-inflammatory and antioxidant properties as well. The interesting thing about this product is the Ashwagandha herb that lowers the level of cortisol to a minimum suitable for dieting and high-intensity training when the stress is increased as well as the addition of Huperzine A, which improves concentration.
Rule 1 Cut 10 Side Effects & Safety
The use of fat burners can cause a range of side effects but can vary depending on the ingredients. Some side effects may include heart palpitations, anxiety and irritability but this is subject to the individual. Although you are not physically putting your body through its paces, your body is still under stress as it reserves are being burned away. Therefore, it is best to cycle your fat burner and take about a 2 week break before starting a new tub. Rule 1 Cut 10 is best taken in conjunction with diet and exercise to achieve the results you want.
Although this formula utilises natural sources of caffeine and is considered a low stimulant formula; if you are sensitive to any stimulants, we recommend picking a stimulant free alternative like Rule 1 Lean 5.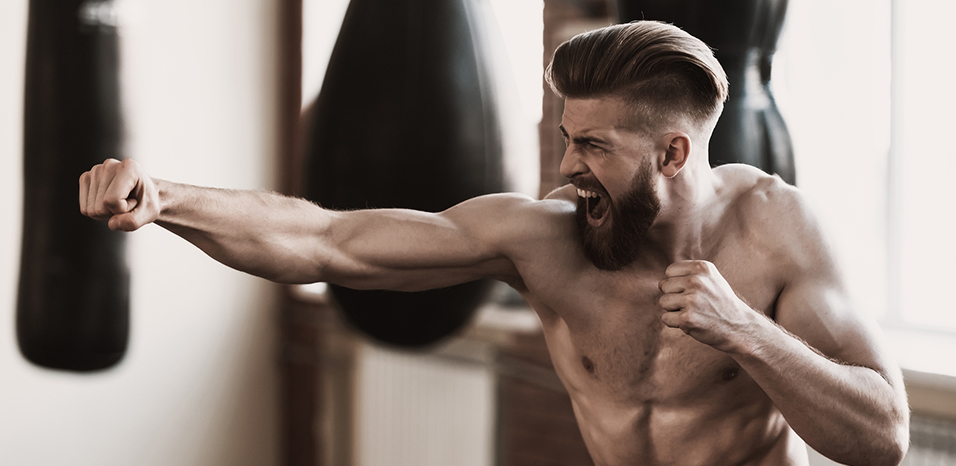 Rule 1 Cut 10 Taste, Flavour & Mixability
There isn't a whole heap of flavours to choose from, but it is available in three distinct flavours. These include Star Pop, Blood Orange and Strawberry Watermelon. Each flavour has their own unique taste that will be sure to suit all flavour palettes. Rule 1 supplements are known for their great mixability so for Rule 1 Cut 10 also mixes with ease.
Stacking Rule 1 Cut 10
Rule 1 Cut 10 is easily stackable with other supplements like amino acids, creatine etc; as long it doesn't contain caffeine or other supplements with the same ingredients. For maximum weight loss results, Rule 1 Cut 10 can also be paired with their stimulant free fat burner, Lean 5.
Rule 1 Cut 10 Verdict
All in all, Rule 1 Cut 10 utilises a combination of synergistic ingredients to help boost mood, increase metabolism, insulin sensitivity, energy production and improve fat loss. Due to its transparent label Rule 1 Cut 10 is easily adjustable for all level trainers, whether you're taking your first fat burner or have used many in the past, as you can tell exactly how much active ingredients are in each serve, simply adjust to suit your individual tolerance level.