Ronnie Coleman Yeah Buddy Pre Workout Review
Quick Summary Points for Ronnie Coleman Yeah Buddy
Ronnie Coleman Yeah Buddy is a strong pre-workout designed for hardcore lifters or advanced trainers that are looking for a high-stim product
Contains an extreme stimulant blend with 420mg of caffeine
Yeah Buddy is a solid product that keeps your energy levels high whilst keeping you pumped throughout your workout
Best taken at least 20-30 mins before your workout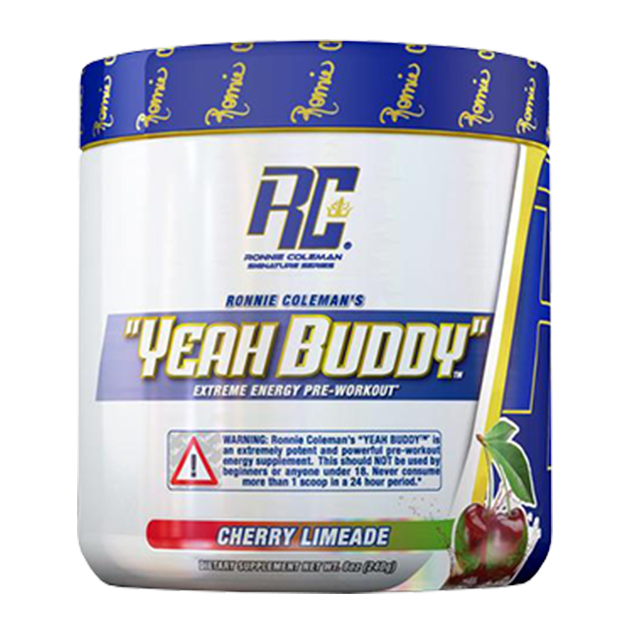 The Ronnie Coleman Signature Series has been one of the more popular supplement brands started by a pro bodybuilder. With some popular supplements including Testogen XR, MyoBlitz and Resurrect PM, Ronnie has decided to come up with another pre-workout, which goes by the name Ronnie Coleman Yeah Buddy.
Ronnie Coleman Yeah Buddy Highlights
High stimulant
TeaCrine (Theacrine) – ingredient that increases energy production & drives mental, physical performance
Excellent pumps & focus
Extended release energy
Ronnie Coleman Yeah Buddy Ingredients & Dosage
Since the announcement of the Ronnie Coleman Yeah Buddy pre-workout, the nutrition label has finally been released and the pre-workout will contain four matrices of ingredients including:
Pump & Endurance Matrix - Carnosyn (Beta Alanine) and HydroMax (Glycerol Powder)
Focus Matrix - Choline Bitartrate and TeaCrine (Theacrine)
Extended Release Caffeine Matrix - Caffeine Anhydrous and PharmaSure (Time Release Caffeine)
Yeah Buddy Bomb Matrix - Synephrine HCL, Higenamine HCL, Phenylethylamine, Adhadota Vasica
The formula is quite interesting and is definitely an improvement upon MyoBlitz, which was already a popular pre-workout in its own right. It'll be interesting to see what the brand decides to replace the Yohimbine with for the international versions, but even without it, the supplement is looking to be a popular addition to the pre-workout category.
Ronnie Coleman Yeah Buddy Benefits, Pros & Effectiveness
The formulation of this pre-workout is quite well rounded in terms of its ingredients, dosage and effectiveness. The pre-workout is made up of four matrices that all function differently. The beta-alanine dosed at 2500mg will give users a good pump throughout their workout. This works in conjunction with arginine to deliver better muscle flow to the muscles. This blend also contains a focus matrix to keep you mentally focused throughout your entire workout.
For those who enjoy a good pump and increased nutrient delivery to the muscle, the pre-workout contains a combination of pump and endurance ingredients like arginine and beta alanine to keep you feeling great during exercise. Yeah Buddy also includes an effective ingredient that helps increase energy production. Theacrine is a similar ingredient to caffeine that can benefit endurance training and improve better gains. As it has been extensively studied, it has many studies that have proven that it can help improve mood, mental performance as well as focus.
Ronnie Coleman Yeah Buddy Flavours, Taste & Mixability
Ronnie Coleman Yeah flavours come in three various flavours that consist of Cherry Limeade, Electric Lemonade and Sour Berry. If you enjoy a lemonade/lime citrus flavour Electric Lemonade and Cherry Limeade is the way to go. The product mixes extremely well with water leaving no grittiness that some supplements may have.
Ronnie Coleman Yeah Buddy Negative & Cons
Yeah Buddy is a high-stim product that does contain an extended release of caffeine of 420mg so it is formulated specially for those who can take on an intense caffeine hit. It wouldn't be suited for users who have trouble with caffeine. For first time users, it is recommended to assess tolerance before consuming the product.
Ronnie Coleman Yeah Buddy Verdict

Ronnie Coleman's Yeah Buddy is not for the faint hearted. It is designed for the hardcore lifter that is on the search for a high-stim pre-workout. Having said that do keep in mind that this product does contain more than 300mg of caffeine. For those who are sensitive to caffeine or cannot tolerate it, this product may not be suitable for you. Yeah Buddy is perfect for trainers who are just looking for that kick of energy and focus alongside skin-tearing pumps.