Ronnie Coleman Stacked-N.O. Review
Yeah Buddy! Ronnie Coleman's unique and inventive range of bodybuilding supplements has deservedly brought further success and notoriety to the eight-time Mr Olympia winner. This comprehensive group of products is undergoing a revamp at present, and word has it that Stacked-N.O. is going to be re-released in powder form, paving the way this potent pump-enhancer to be unleashed onto the Australian market.
Ronnie Coleman Stacked-N.O. Highlights
Simple, quality formulation
Ingrdients support both pump and muscle growth
Increase endurance and strength
Designed for maximum absorption
Ronnie Coleman Stacked-N.O. Ingredients
Stacked-N.O. is a formula based on L-citrulline, a well known precursor to arginine, which is as a booster of nitric oxide levels in the muscle tissue. Citrulline can also metabolise toxic ammonia, which can precipitate muscle fatigue. Stacked-N.O. also contains Agmatine, a natural arginine derivative with many touted benefits including strengthening of the neuromuscular pathways, boosting testosterone levels, better blood sugar control and pain tolerance. It may prevent the body from breaking down NO. Muscle building B-vitamins and a proprietary blend contaning L-ornithine, HICA and Astragin, to aid absorption of amino acids, round out this supplement.
Ronnie Coleman Stacked-N.O. Pros & Effectiveness
This is a relatively simple formula, and it is based upon a very well regarded ingredient, L-citrulline.
L-citrulline is even sold under prescription in Europe as a strength booster for people suffering weakness, and its role in boosting NO levels in the body is well established. Unlike L-arginine, L-citrulline is able to bypass primary metabolism in the liver, and passes straight to the kidneys where it is efficiently converted into NO boosting L-arginine. NO, or nitric oxide is still the best vasodilator around.
Not only does a huge pump look and feel great, but the increased muscular blood flow has a number of advantages. Firstly, it is more efficient in delivering much needed nutrients like oxygen and amino acids to the muscles during a workout. This increased blood flow also means that metabolites like lactic acid and ammonia, which can add to fatigue, are removed from the muscle more quickly. This helps improve recovery time between sets. Additionally, NO helps the smooth muscle in the body to relax, which allows greater oxygen delivery to the working muscles.
Stacked-N.O. is a cleverly formulated supplement with ingredients that work in complementary ways. Agmatine works with L-citrulline to produce a massive, lasting pump; ornithine and agmatine both promote endurance by removing toxins; and the increased leucine levels as a result of the inclusion of HICA encourage the ultimate outcome – muscle growth.
Astralgin is becoming an increasingly popular addition to supplements, which shows that the importance of efficient nutrient absorption is being recognised. The manufacturers state that Astralgin may increase the uptake of amino acids, which make up the majority of Stacked-N.O. ingredients, by up to 66.7%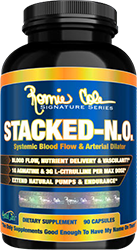 Ronnie Coleman Stacked-N.O. Cons
While this supplement is well put together, some people may find the dosage be on the low side, in particular ingredients in the "Stacked -N.O. Catalyst Blend". We know each serve contains 50mg of Astralgin, which leaves 275mg for L-Ornithine and HICA, both supplements that are more frequently used in the gram rather than the milligram range. Citrulline and Agmatine are also on the low side, although this slight shortcoming may be counteracted by the enhanced levels of absorption due to the presence of Astralgin.
Ronnie Coleman Stacked-N.O. Taste & Mixability
These ingredients are not known for their pleasant taste, but the fact that Ronnie Coleman are often quite inventive in their approach to flavouring inspires confidence. Comprised almost entirely of amino acids, and being familiar with the quality of other Ronnie Coleman Products, Stacked-N.O. is likely to mix very easily without residue.
Ronnie Coleman Stacked-N.O. Verdict
Ronnie Coleman have a history of good quality supplements that get results. Stacked-N.O. is a simple but solid formulation that has been wowing bodybuilders overseas with impressive results. It is exciting that it is finally our turn to experience the pump.