Ronnie Coleman King Beef
Word is out that Ronnie Coleman is currently developing a new protein powder which will be called Ronnie Coleman King Beef. Beef protein is slowly becoming more and more popular and it won't be long before Ronnie the King Coleman gets a chance to get in on the action.
Ronnie Coleman King Beef Review & Ingredients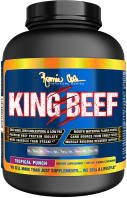 Currently only pictures of the alpha or beta version of the product have been released and little else is known. However, news is that the product will be a hydrolysed beef protein isolate and sweet potato protein isolate powder which will be taking on the likes of MuscleMeds Carnivor and SciTec 100% Beef. It will be suitable for use by a variety of individuals looking to build lean muscle. If King Beef is anything like Ronnie's ProAntium, it may also include some extra muscle boosting bonuses, such as creatine and betaine.
Currently, the only product containing beef protein officially in Australia is Arnold Schwarzenegger Iron Mass, which is a mass gainer and not a 100% protein powder. If Ronnie's quick, he can have the entire Aussie market to himself, at least for a little while.
Ronnie Coleman King Beef Release Date
Given that King Beef is still very early in its development phase, we are not expecting it to be making an appearance for quite a while yet. If it does eventually make its way to Australia, it will be well into 2015 before we see it on sale.