Resistance Exercise Improves Sleep Quality
While it is generally believed that a bit of exercise can help with a good night's sleep, there is a surprising lack of research looking at whether this is true when it comes to resistance exercise. Aware of this, researchers from the Vascular Biology and Autonomic Studies Laboratory at Appalachian State University, Boone, North Carolina sought to determine how resistance exercise performed at various times during the day would affect sleep architecture. Sleep architecture is concerned with how fast subjects fall asleep and how often they wake up, as well relative amounts of rapid eye movement (REM) and non-rapid eye movement sleep (NREM), among other things.
To test their theory, the researchers took a bunch of college-aged students who were considered to be inactive (i.e. <150 minutes of any mode of structured exercise per week) and had them turn up to the training lab at three different times of the day (i.e. 0700 hours, 1300 hours , and 1900 hours) in a randomised order to perform a half hour of resistance exercise.
Each session consisted of 9 different exercises; double-leg press, leg extension, hamstring curl, calf raise, abdominal crunch, triceps extension, biceps curl, lat pull down, and chest press exercise. Subjects performed 1 set and 10 repetitions of each exercise.
After each session, subjects were given a wireless sleep-monitoring headband and a specialised night time blood pressure monitor designed for use during sleep. These were used to collect sleep data the day following resistance exercise.
As the graphs show, regardless of the time of day of resistance exercise, all subjects had better sleep quality when they performed a half hour of resistance exercise compared to when they didn't. However, blood pressure was not affected. There was no clear benefit in terms of sleep concerning the specific time of day that resistance exercise was performed.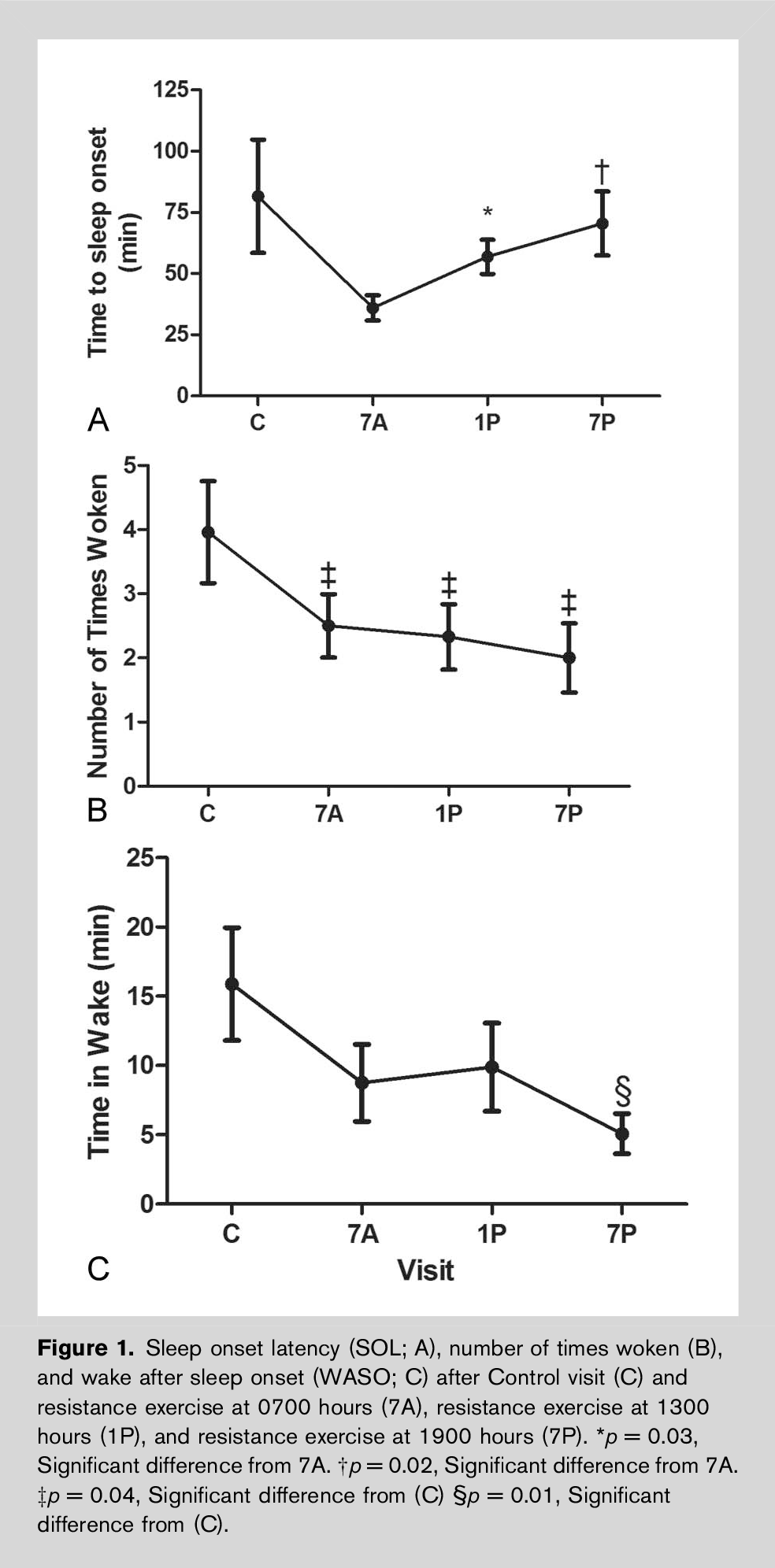 The researchers highlighted the fact that the subjects in the study (i.e. college students) tend to report high levels of common psychological disorders like depression and anxiety. Poor sleep quality is often co-morbid with these conditions and therefore any treatment that could improve sleep quality would naturally improve such conditions.
While many people naturally associate a bout of exercise with a better night's sleep, it good to see study's like this confirm that resistance exercise in addition to aerobic exercise can help improve sleep quality in young inactive individuals.
Alley JR, et al. Effects of resistance exercise timing on sleep architecture and nocturnal blood pressure. The Journal of Strength and Conditioning Research. 2015;29(5):1378–1385.