Resistance Bands Increase Power of Jump Squat

Elastic resistance bands have typically been use in rehabilitation, however, nowadays their use is more widespread with applications such as speed and agility training, strength and conditioning, flexibility exercises and even plyometrics.
One of the principle arguments for their use is practicality. Simply because of their low cost and light weight compared with more traditional and less portable weight lifting equipment. For example, track and field athletes could easily take an elastic resistant band with them onto the track before competition and use to warm up but this is obviously not the case with traditional weight lifting equipment.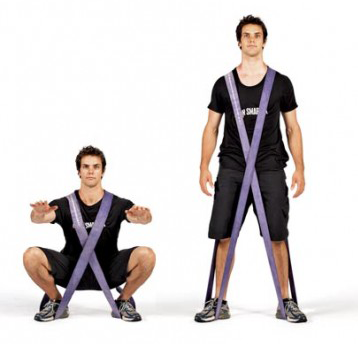 One of the sports to pioneer the use of resistance or power bands (as they are sometimes referred to) is our very own Australian Rules Football. In teams sports such as these, they are often used as a warm up tool, but as will be discussed in this article, they also play a role in helping to optimise power and performance.
A soon-to-be published study in the prestigious Journal of Strength and Conditioning sought to determine the relative effect of barbell box squats; box squats with elastic resistance bands; and static stretching on power production during a 20kg weighted jump squat1. Funnily enough subjects were recruited from the sports science division of the prestigious Collingwood Football Club based in Melbourne, who incidentally use the bands as part of their normal training.
Every subject in the study had a chance at trialing each warm up protocol, such that on 3 separate occasions, at the same time of day with at least 3 days between, each participant performed the three warm-up protocols mentioned above.
The band squats and barbell box squats involved two low intensity warm-up sets of 10 repetitions before completing three sets of a predicted 3RM for the barbell squat and 3 repetitions of the band squats using the highest resistance bands available. The particular resistance bands used were 41 inch in size and capable of providing a resistance range of approximately 40 kg to 100 kg. The stretching protocol consisted of static stretches of the muscles of the lower-limbs: seated hamstring, standing quadriceps, seated gluteal and standing calf.
Subjects performed the weighted jump squats before each warm-up and at 5 and 10 minutes following. The jumps were performed on a smith machine with a 20kg barbell. Each participant had to jump as high as they could while keeping the bar in contact with their shoulders. To measure their power, the researchers attached a specialised transducer able to measure the vertical position of the barbell and therefore calculate the external power applied to it. This in turn served as an indicator of lower-body power production.
The researchers found that both the barbell box squats and the resistance bands were equally effective in increasing power in the weighted squat jumps 5 and 10 minutes following the warm up. By contrast the stretching regime lead to a reduction in power, which has come to be expected.
Using specially devised measuring tools, the authors of the study were able to show that the load encountered during the band squat condition was approximately 101 kg at full extension, compared with an average load of 127 kg during the barbell box squats. A difference of 28kg is quite substantial and represents a significant drop in intensity, however it still did not affect power production during the weighted squat jumps.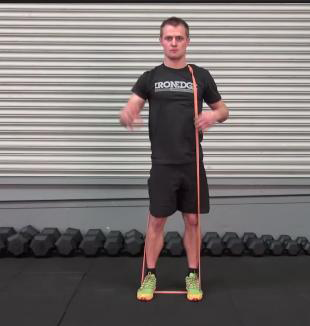 At this point, it's worth highlighting the key differences between elastic bands training and free weights. Resistance bands provide variable load  throughout a range of motion with the most resistance occurring at or near full muscular extension. When lifting free weights by contrast, the load is unchanged throughout the movement's range of motion. In this way, elastic bands compliment the length-tension relationship by requiring a progressive recruitment of motor units, with the highest motor unit recruitment required at the most mechanically advantageous position within a given movement. More motor unit recruitment generally means more muscle activation which is thought to underlie the unique neuromuscular stimulus shown to be achieved with elastic bands2-4. These key differences may be one reason why despite recording a significantly lower maximum load than barbell squats, the band squats still resulted in an equal increase in power output during the weighted barbell jumps.
What makes the findings of this study particularly useful is that they prove that heavy and expensive equipment is not necessary when performing post-activation potentiation (PAP) activities designed to increase power ouput. For those readers not familiar, PAP is when a strength conditioning exercise precedes a more dynamic exercise or activity with similar movement patterns. In the case of this study, the box squats and band squats obviously closely mimicked the jump squats and were able to confer increased power in that exercise in contrast to static stretching. As highlighted at the outset, alternative training tools such as resistance bands or 'power bands' can easily be transported on the playing field in the case of a team sports such as Aussie Rules, where players can use them on the sideline as an effective warm up that may increase power output and performance during the game.
1. Buttifant D & Hrysomallis C. Effect of various practical warm-up protocols on acute lower-body power. J Strength Cond Res. 2014 Oct 31. [Epub ahead of print]
2. Anderson CE, Sforzo GA, and Sigg JA. The effects of combining elastic and free weight resistance on strength and power in athletes. J Strength Cond Res 22: 567–574, 2008.
3. Argus CK, Gill ND, Keogh JW, Blazevich AJ, and Hopkins WG. Kinetic and training comparisons between assisted, resisted, and free countermovement jumps. J Strength Cond Res 25: 2219–2227, 2011.
4. Bellar DM, Muller MD, Barkley JE, Kim CH, Ida K, Ryan EJ, Bliss MV, and Glickman EL. The effects of combined elastic-and free-weight tension vs. free-weight tension on one-repetition maximum strength in the bench press. J Strength Cond Res 25: 459–463, 2011.