Reflex Micro Whey is the ideal protein product for those looking for unmatched levels of protein. It can be used by anyone wanting a supplement that contributes to the maintenance of muscle mass or a growth in muscle mass depending upon their exercise regime. Similarly, it contributes the maintenance of normal bones.

Reflex Nutrition Micro Whey Features
An unrivalled 88% protein
Includes Native Whey
Very low in fat and carbohydrates
98% lactose free
Rich in muscle building Branched-Chain Amino Acids
Instant mixing and great tasting
Superior Nutritional Profile

Micro Whey takes what we know about whey protein to the absolute edge of what is possible. It delivers a very high protein content with virtually zero fat and zero carbohydrate and remains a great tasting product that's been the choice of hundreds of thousands of athletes for over a decade. There really is no equal, Micro Whey delivers a proven 88% protein content that is derived only from the finest whey isolates in the world. The main ingredient is the least processed, highest quality form of whey protein in the world, pure undenatured Native Whey Protein Isolate.

Micro Whey achieves such high levels of protein because its sole source of protein is undenatured whey protein isolate. Whey protein isolate not only has the highest levels of protein available but contains extremely low levels of fat and carbohydrates, which makes it the ideal choice for those who want to limit the calories that they are consuming.
Reflex Micro Whey
Per Serve
Formulated Supplementary
Sports Food
30g
Nutrition Information
Per Serve
Per 100g
Energy
454kJ
107Cal
1512kJ
356Cal
Carbohydrate Total
0.6g
2.1g
- Carbohydrate Sugar
0.2g
0.7g
Lactospore® Probiotics
50 Mil. Spores
160 Mil. Spores
Essential Amino Acids
g/100g
Non-Essential Amino Acids
g/100g
Reflex Micro Whey Ingredients
Native Whey Protein Isolate, Cross Flow Micro Filtered Whey Protein Isolate, Flavouring Substances, Natural Colourings (Cocoa Powder (Chocolate Flavour Only), Betanin (Strawberry Flavour Only), Beta Carotene (Banana & Vanilla Flavours Only)), Digezyme® Digestive Enzyme Complex (Amylase, Cellulase, Lactase, Lipase & Neutral Protease), Artificial Sweeteners (Acesulfame K, Sucralose), Emulsifier (Soya Lecithin), Lactospore® Probiotics (Bacillus Coagulans).
Reflex CFM Micro Whey Directions
Mix 30g with 300mL water with a fork or in a shaker cup. Consume 2-3 servings daily. Do not exceed the stated dose.
Store in a cool dry place out of direct sunlight under 30°C
This product is not a sole source of nutrition and should be used in conjunction with an appropriate physical training or exercise programme. Not suitable for children under 15 years of age or pregnant women. Should only be used under medical or dietetic supervision.
General Product Warning
Users should seek medical advice prior to beginning any supplementation program. This especially applies to individuals taking prescription medication or those with pre-existing medical conditions. Always read the label prior to consuming any supplement, always follow the manufacturer's directions & never exceed the recommended dose. In the event of experiencing any unwanted effects discontinue use immediately & seek medical advice if symptoms persist. Keep out of reach of children.
Copyright
Copyright MrSupplement Marketing Pty Ltd 2013. This website, and the images, text and tables on it are subject to copyright under the Australian Copyright Act 1968 (Cth), as well as under the copyright law of other countries by virtue of worldwide treaties, belonging to MrSupplement Marketing Pty Limited and to its suppliers & or product manufacturers. Reasonable portions of this website may be printed out solely insofar as is necessary to order products from the MrSupplement.com.au web site. Any other reproduction or communication in whole or in part is unauthorised and may result in legal proceedings being taken to protect the intellectual property rights of MrSupplement Marketing Pty Limited and/or suppliers & product manufacturers.
Reflex Micro Whey Reviews
Mixes well, tastes good, great protein. Highly recommended.
tastes nice and high protein with each serving. mixability isnt as good as it is with other brands, though.
Reflex Micro Whey Information
Ask a question about
Reflex Micro Whey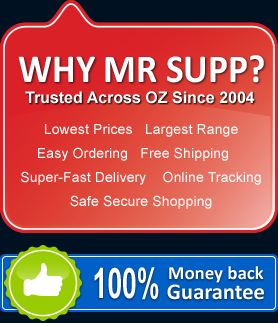 Dear Mr Supplement Team, Thank you so much for your AMAZING service. You guys delivered everything I ordered, with no complications, within days! I legit ordered my items on Tuesday and received it on Thursday. I was so happy to get in such a short amount of time, especially since I am such a impatient person. I have recommended Mr. Supplement to countless people, I really appreciate your guys service. Will definitely be ordering again soon. :) THANKS A TON!
Read more testimonials >>
© Copyright 2014 All Rights Reserved MrSupplement