Reflex Instant Whey Pro Review
Instant Whey Pro is a recent release from leading UK sports supplement brand Reflex Nutrition. If there's one thing to define the Reflex brand, it would have to be quality. They pride themselves on their quality standards (i.e. ISO 9001) which encompass everything from the sourcing and testing of raw materials through to manufacturing and testing of finished products. Their in-house protein testing (and publishing) of all protein powders is a major step that separates them from competitors. So what does new Instant Whey Pro offer over normal Instant Whey? Read on to find out.
Instant Whey Pro Ingredients
The basic difference with new Instant Whey Pro is the addition of three more types of probiotics. Instead of just containing the usual LactoSpore® (i.e. bacillus coagulans), Instant Whey Pro comes with added Lactobacillus acidophilus, Bifidobacterium bifidum, and Lactobacillus rhamnosus. These probiotics combine to give Instant Whey Pro a total of 2 billion friendly bacteria per 100g of product, which really sets it apart from your average whey protein. Reflex also chose to increase Instant Whey's already impressive digestive enzyme mix by 25%.
Instant Whey Pro Pros & Effectiveness
Arguably the biggest highlight with Instant Whey Pro is that it has been able to retain its high protein content (i.e. 80%) while simultaneously bolstering its probiotic and digestive enzyme levels. The other major feature of Instant Whey Pro is simply the quality of whey proteins that make up the protein powder. Reflex use 3 quality whey proteins as part of their Instant Whey PRO blend, namely: native whey protein isolate, cross-flow micro-filtered whey protein isolate and ultra-filtered whey protein concentrate; all in undenatured form. Reflex are one of the few sport nutrition companies to emphasize they use undenatured/native forms of whey protein. Reflex argue that true native whey protein is produced using a separate process to that of conventional whey protein, which avoids secondary pasteurising and ensures higher levels of cystine; a very fragile peptide, easily damaged by heat.
Reflex's Muscle DriveTM complex is another key distinguishing feature of all their big name proteins. This unique complex includes a more stable and effective type of glutamine, in the form of glutamine dipeptide, together with whey hydrolysate and standard l-glutamine. Because it's a much more expensive form of glutamine, the vast majority of protein powders on the market don't come with any added glutamine dipeptide. So this is certainly a distinguishing feature for Instant Whey Pro and Reflex's other protein powders.
Instant Whey Pro Cons
It's genuinely hard to fault Instant Whey Pro. On so many levels, it is a superior product to your average blended whey protein. If one wants to be picky however, you could argue that Reflex have gone with a somewhat unconventional serving size of 25g, versus the norm of 30-35g. This essentially means Instant Whey Pro has less protein per serve than many of its competitors, when just comparing purely on a gram for gram basis. One can only assume Reflex have done this to artificially boost the advertised servings per container for each respective size. Alternatively, they may be of the belief that 20g of protein is sufficient to stimulate muscle protein synthesis following a bout of weight training.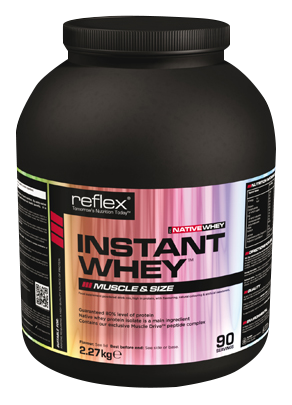 Instant Whey Pro Taste & Mixability
Reflex advertise that the taste of Instant Whey Pro is actually an improvement over Instant Whey. In the opinion of this reviewer and others at MrSupplement, this was certainly the case. However, it must be said that the general taste profile is significantly different from that of your typical US protein. More specifically, Instant Whey Pro has a less sweet taste and stronger cocoa flavour than your typical US protein. Mixability wise, there's no issue mixing Instant Whey Pro up in a shaker as one would expect with any decent quality whey protein powder.
Instant Whey Pro Verdict
All-in-all, Instant Whey Pro is a top quality whey protein blend that really stands out from the competition. With its unrivalled content of probiotics and digestive enzymes, Instant Whey Pro is ideally suited to active individuals with minor gastrointestinal sensitivities or issues. Whether it's because of increased awareness or improved detection/diagnosis, there appears to be an increasing number of individuals suffering from chronic gastrointestinal disorders such as irritable bowel syndrome. There's a case to be made that protein powders such as Instant Whey Pro that are fortified with digestive enzymes and probiotics may be more suited to such individuals.