Pursuit Rx Whey Protein Review
Dymatize have recently taken all-natural products to another level, with a new spin off brand, Pursuit Rx. Pursuit Rx Whey Protein is the brand's flagship natural whey protein powder. Using some unique ingredients and technologies, Pursuit Whey is a rather unique product that deserves some attention.
Pursuit Rx Whey Protein Highlights
All natural 100% whey protein powder
No gluten, soy, or bovine growth hormone
One of the most outstanding and well thought out natural whey protein powders around.
Pursuit Rx Whey Protein Ingredients
As you would expect from a product of this type, all the ingredients in Pursuit Whey are 100% natural. It contains a blend of whey protein isolate (WPI) and whey protein concentrate. It also contains natural flavours, sweeteners, texturing agents, and very little else. Each 33 g scoop provides 130 calories, 25 g protein, 3 g carbs, and 1.5 g fat.
Pursuit Rx Whey Protein Effectiveness & Pros
Pursuit Whey is marketed towards performance focused athletes who are after an all-natural whey protein powder. The formulation of this product is perfect for use immediately after training and in between meals. It can assist in lean muscle building, recovery, and hence exercise performance.
Other than no artificial ingredients, Pursuit Whey also contains no gluten or soy. Although most Dymatize products are already gluten-free, the no soy claim is very impressive. Soy lecithin is a common ingredient used in whey protein formulations, as it greatly improves mixability. Manufacturers often struggle to find an alternative. However, Pursuit Whey uses sunflower lecithin, which effectively makes it one of the very few 100% soy free whey proteins around.
Pursuit Rx Whey also advertises no hormones (rBGH/rBST). This means that the milk used in the manufacturing process come from cows that have not been treated by bovine growth hormone. Although there is no harm in consuming milk products from such cows, those who wish to avoid it now also have an option.
Pursuit Rx Whey Protein Cons & Negatives
It is unusual that Dymatize did not include any hydrolysed whey protein in Pursuit Whey. This ingredient has been shown to be highly beneficial for recovery and muscle building, and is commonplace in the Dymatize protein range. Perhaps the reason for excluding it is because the manufacturing process may include artificial ingredients, which would compromise the integrity of the 100% natural product.
Another unusual aspect of Pursuit Whey is that it currently only comes in a 735 g tub. This is a fair bit smaller than the usual 900+ g. Despite being a smaller size, there is also a price premium for this product over its Elite Whey cousin. So Pursuit Whey is definitely more upmarket than others protein powders.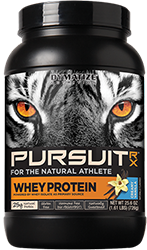 Pursuit Rx Whey Protein Taste & Mixability
At first we were sceptical about the mixability of a product without soy lecithin. However, with its sunflower lecithin, we were pleasantly surprised with Pursuit Whey's mixability. This ingredient may in fact be a new trend for up-coming natural proteins. Flavour, as usual, is outstanding. This has been a trait from Dymatize that has always been commendable. Currently, Pursuit Whey is only available in chocolate and vanilla. However, it may be possible to see more varieties if the product takes off.
Pursuit Rx Whey Protein Verdict
For the natural athlete, finding a suitable protein powder has never been easier. The all natural, gluten free, and soy free PPursuit Rx Whey Protein is a big step in the right direction. If you do not mind paying a price premium, there are few all-natural whey protein powders that are better formulated.