Pure Supps 100% WPI Review
Pure Supps is a young Aussie company which is behind a new range of premium quality supplements, delivered without the premium price tag. For their flagship range, the company has decided to go with versatile, no frills formulations and have manufactured these products using the best quality ingredients available. This exciting product range features a number of protein powders, including 100% WPI.
Pure Supps 100% WPI Highlights
*Exceptional quality
*Simple, versatile formulation
*Excellent value
Pure Supps 100% WPI Ingredients & Dosage
Each 1kg bag of Pure Supps 100% WPI contains thirty-three 30g servings. 100% WPI is based on cold filtered whey protein isolate which has been fortified with free amino acids L-leucine and L-glutamine and a vitamin and mineral blend. Digestive enzymes help the breakdown and absorption of 100% WPI.
Pure Supps 100% WPI Pros & Effectiveness
For a simple product like 100% WPI, the quality of the protein is a very important factor. Pure Supps is obviously aware of this and have opted to formulate their products using the very high quality protein. Many protein powders, particularly those in the budget price range, are purified using heat and chemicals. This not only causes the protein structure to break down, but may leave behind some important bioactive whey fractions. 100% WPI is purified using gentle cold water ultrafiltration which preserves all whey fractions, along with the protein structure and its bioactivity. This is the best quality whey isolate available.
Pure Supps 100% Whey has a simple, yet very clever formulation which suits the needs of a variety of people. The low fat and carbohydrate content, along with the vitamins and minerals, and immune boosting, glutamine make 100% WPI ideal for those trying to lose weight. On the other hand, people who are trying to bulk up will value the anti muscle catabolic properties of glutamine and the anabolic effect of leucine, and will value the fact that this fast digesting protein is perfect for a protein hit before and after workouts. Additionally, 100% WPI contains so little lactose and is so pure that many people with lactose intlerance are able to consume it without developing symptoms.
Pure Supps 100% WPI Cons
Many people have a preference for a high tech, all-in-one protein formulation that takes the place of a number of different supplements. As a very simple product, Pure Supps 100% WPI will not be to the tastes of these people. 100% WPI is great for beginners through to professionals, but this is a protein powder best suited to people who have the motivation to take active control of their own nutrition. Because it is so simple, 100% WPI stacks well with almost everything, including the other uncomplicated, premium quality products in the Pure Supps range.
Although Pure Supps has manufactured an exceptional quality product and has put it on the market at a price point that makes it one of the best value proteins available, strong brand loyalty is something that new players in the industry have to contend with. It will be interesting to see what sort of a dent this ambitious young Aussie company can make on the established brands.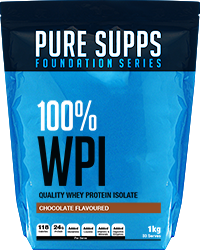 Pure Supps 100% WPI Taste & Mixability
Pure Supps has, fittingly, gone with simple, classic flavours for their 100% WPI, which is available in chocolate, vanilla and banana flavours. This protein mixes easily into water or milk with a minimum of shaking, and produces a mild-flavoured, easy to drink shake.
100% WPI Overall Verdict
Pure Supps is sure to make quite a splash with their new range of low priced products, which have been manufactured to exceptional quality standards. 100% WPI is an uncomplicated formulation, which is versatile enough to be used by beginners and professionals for muscle building, weight loss, or just to boost the daily protein intake and maintain good health.