Pure Supps 100% Whey Review
Pure Supps is a new brand that has made its entry onto the market with a range of simple supplements which have been formulated using top quality ingredients. What is remarkable about the Pure Supps range is that unlike some of the premium back to basics supplement ranges that are quite popular at the moment, the Pure Supps range does not come with a premium price tag. 100% Whey is an uncomplicated Whey Blend of this protein-powder heavy flagship range. Let's take a closer look.
Pure Supps 100% Whey Highlights
Outstanding quality
Versatile formulation
Excellent value
Pure Supps 100% Whey Ingredients & Dosage
100% Whey is based on cold filtered whey isolate, whey concentrate, and whey peptides. This blend has been fortified with extra glutamine and leucine, two of the most important amino acids for active individuals, a full complement of vitamins and minerals, and digestive enzymes. Each 30g serving of 100% Whey contains an impressive 24.1g of protein.
Pure Supps 100% Whey Pros & Effectiveness
The standout feature of Pure Supps 100% Whey is the quality of the protein. Many lower priced manufacturers use cheaper whey which has been purified by heat and chemical methods, which destroy the structure of the protein and have the potential to leave behind important biological fractions. 100% Whey uses only cold micro and ultrafiltered proteins, which have been treated using nothing more than cold water. Not only does this retain vital fractions of the protein, but it is though to retain biological activity – intact fractions are thought to have anabolic properties and a bearing on immune health.
This is a versatile protein that anyone can use, any time. With a low fat and low carbohydrate content, the immunoprotective and anti-catabolic effects of glutamine, and health benefits of vitamins, this is the perfect protein to supplement weight loss. The minerals and nutrition in the vitamin blend, on top of the added amino acids and the pure, comprehensive protein blend are also ideal for people trying to put on muscle. Because it's fast acting and also lasts, you can use 100% Whey any time – breakfast, before or after a workout and between meals.
Pure Supps 100% Whey Cons
If you're looking for a protein that does everything at once, this is not the product for you. Some people have a preference for an all in one product – it can be easy to take care of many of your nutritional and muscle building needs at once with a complex, multi ingredient protein with a number of additives. 100% Whey is more a product for those people who like to be in control of their own nutrition, who value the versatility of a simple, high quality protein.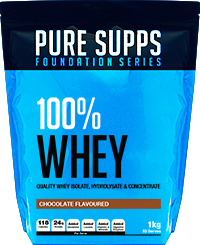 There is a lot of brand loyalty when it comes to protein, which means that new products, particularly from new brands, can have a bit of trouble getting a foothold in a crowded market. Impeccible quality credentials and an excellent price tag make this newcomer is one of the best value proteins on the market. It will be interesting to see how the market responds to 100% Whey, and the Pure Supps range.
Pure Supps 100% Whey Taste & Mixability
It is not surprising that Pure Supps has stuck to classic dairy flavours for this straightforward, no nonsense product, and the chocolate, vanilla and banana flavours of 100% Whey have all been well received. This is a protein that mixes very easily into a thin shake which is very easy to drink.
Pure Supps 100% Whey Overall Verdict
If you're looking for a simple, high quality protein that is versatile enough to use any time, and you're happy to take a chance on a young Aussie company which is producing some of the best value products on the supplement market, Pure Supps 100% Whey is an excellent choice.