Pure Supps 100% Mass Review
New Australian breakout brand Pure Supps have a complete range of protein powders positioned to impress. Their mass gainer Pure Supps 100% Mass is already crushing competition for more than one reason. Read on to find out why 100% Mass is one of the best new mass gainers around.
Pure Supps 100% Mass Highlights
High calorie mass gainer for hard gainers
Blend of slow digesting micellar casein and fast digesting whey protein
Outrageously good value for money
Pure Supps 100% Mass Ingredients
100% Mass has a simple yet effective formulation that does not muck around. It contains a generous serve of complex carbohydrates in the form of maltodextrin and its protein blend is made up of micellar casein and whey protein concentrate. As added bonuses, 100% Mass also contains some additional glutamine and digestive enzymes. Each 200 g serve provides a solid 766 calories, 32 g protein, 150 g carbs (29.2 g sugar), and 2.4 g fat.
Pure Supps 100% Mass Effectiveness & Pros
There is no shadow of doubt that 100% Mass is formulated for hard gainers and those who really struggle to put on weight. Its carb to protein ration is high, at 5 to 1, which has been seen in other proven formulations such as Optimum Serious Mass. Such a high amount of carbs is designed specifically to add calories for those with lightning fast metabolisms. The carbs also help to preserve the protein so that it can be used to build muscle, instead of being burnt as fuel. Taking one to two serves of 100% Mass would help even hard gainers pack on some size.
The protein blend of 100% Mass is simple yet commendable. It has a high proportion of micellar casein, which is an excellent slow release source of protein to keep muscles fuelled for hours. In addition, the whey protein will be rapidly digested to trigger the muscle building process.
100% Mass contains more than enough glutamine for most people. At around 10 g per serve, it means that additional glutamine supplementation would not be needed in most situations. This is a bonus for those on a tight budget.
Despite the many benefits of 100% Mass, its real highlight is its price tag. At the moment, it only comes in a 6 kg bag, yet it is priced well under $100. Where else can you find such a high quality product at this price? Pure Supps state that they were able to do this by sparing profit margins, fancy marketing, and packaging, which means they had more left over to spend on things that matter – ie. quality ingredients.
Pure Supps 100% Mass Cons & Negatives
100% Mass is a hard gainer formula designed for those who struggle to put on weight. For the endomorphs and those who put on fat easily, a leaner protein would be more suitable. These people may benefit more from a low carb whey, such as Pure Supps 100% Whey.
Despite the trend for MCTs in many high end mass gainers recently, 100% Mass contains a noticeably low amount of fat. The formula may have benefited from additional calories if a few grams of MCTs were added. However, most people would argue that there are enough calories as it is.
Pure Supps 100% Mass Taste & Mixability
Looking at the ingredients of 100% Mass, we expected the texture to be very course and grainy from the large amount of micellar casein. However, we were pleasantly surprised to find that this was not the case, and the texture was much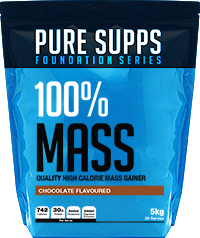 smoother and relatively thinner than expected. The flavour of the resulting shake is excellent and distinctly Australian. All together, the drinking experience is pleasant and easy to slam down.
Unlike other some other high carb mass gainers, 100% Mass mixes fairly well. You may struggle finding a shaker big enough to fit the 200 g powder, plus the 750 mL water, so a blender is recommended.
Pure Supps 100% Mass Verdict
In short, Pure Supps 100% Mass is a mass gainer that is hard to fault. It is a premium mass gainer without the premium price tag. In fact, it is possibly one of the best value for money products around. Because 100% Mass serves its purpose so well, with so little fault, we would say it is one of the best mass gainers on the market.