Pure Supps 100% Casein Review

Pure Supps is a new brand set to storm the Aussie market with its refined range of protein and amino acid supplements. The key thing distinguishing the brand (apart from its distinctive fluoro blue packaging!) is its value offering if the form of rock bottom prices. With only a very select number of brands having done well using a similar model, it will be interesting to see how the Pure Supps brand fairs. In this review we will take a close look at their casein product; simply called 100% Casein.
Pure Supps 100% Casein Highlights
Aside from its great price, the key highlights of 100% Casein is its full vitamin and mineral profile together with the added leucine, glutamine and digestive enzymes. While micellar casein is already recognised as one of the best anti-catabolic proteins, the addition of extra amino acids in the form of leucine and glutamine make the product an even stronger anti-catabolic.
Pure Supps 100% Casein Effectiveness & Pros
As far as casein proteins go, 100% Casein has no major flaws in its formulation that will detract from its effectiveness. As highlighted above, the extra glutamine and leucine is a great addition that should improve the anti-catabolic and anabolic properties already inherent in casein protein. 100% Casein is very low carb and fat; just what you want from a night time protein, so you're not adding any unwanted calories to your daily intake. As with all Pure Supps products, the information-rich packaging is a big bonus. A full amino acid analysis panel together with the vitamin and mineral panel is always a welcomed addition to any protein powder and serves to provide transparency and authenticity for the brand and product.
Pure Supps 100% Casein Cons & Negatives
It's hard to find any major negatives for 100% Casein. The supplement ticks all the boxes as far as a casein supplement should be concerned.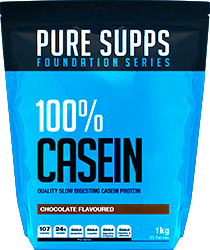 Pure Supps 100% Casein Taste & Mixability
Taste is always a key issue with casein proteins, but we can report that 100% Casein has a pleasantly smooth taste and feel together with a well balanced flavour – that's not too sweet. While there is the faintest hint of the classic casein chalky after taste, it is much better that your typical casein protein powder and barely noticeable.
Pure Supps 100% Casein Verdict
With its great price and added aminos, digestive enzymes, vitamins and minerals; it's hard to be critical about Pure Supps new 100% Casein. To top it off, 100% Casein is one of the best tasting casein proteins we've tried here at MrSupplement and taste is always such a crucial element in the success of a product, particularly when you're talking about a casein supplement.