Protein Snacks
As popular as protein powders, bars and shakes are, every gym junkie and avid supplement user invariably has times when they need a real food protein snack. With the tremendous diversity in food nowadays, there are literally thousands of options when it comes to protein snacks. This article will touch on some of the more popular options when it comes to protein snacks
Protein Egg
Topping the list as arguably the most popular protein snack is the humble egg. Be it in raw form, hard boiled, fried, scrambled or poached, the options are plenty when it comes to smashing down an egg for a quick, easy and quality protein snack. Eggs have the added benefit that they are nutrient rich and also contain some quality fats.
Protein Snacks for Weight Loss
Protein snacks for weight loss have become increasingly popular with the likes of protein balls and bars popping up all over the place. But making your own protein snack doesn't have to be hard or cumbersome. The challenge with 'real food' protein snacks for weight loss is finding some that are low carb and/or low fat. Very low calorie diets (VLCD) require protein snacks that are both low carb and low fat, with some options including lean poultry meats like chicken, ham, turkey with side salads. These can be prepared fairly quickly for those short on time. However, for individuals employing a low carb-high fat weight loss diet, the options are broader and extend to foods such as cheeses, creams, nuts, fish and red meats. Once you add some low carb salad options to these types of foods, there are a myriad of meal options that open up. Some examples include a quick tuna, ceaser or greek salad.
Protein Nuts
Nuts are one of the most popular natural protein snacks, but they do vary considerably in their fat content. Macadamias top the list in terms of their fat content, while cashews contain considerably less fat but still a reasonable amount of protein. The key thing with nuts is not to fall into the trap of eating too much. Most research shows nuts can provide a number of health benefits when consumed in moderation on a daily basis, i.e. no more than 30g a day.
Protein Only Snacks
For the diehard fanatics who demand protein snacks that are nothing but protein with very low fat and carbs, the options can be very limited. The biggest challenge in such instances is finding a snack that is pleasant enough to eat on a regular basis without making one gourge. Everyone has seen the stereotypical pictures of bodybuilders sitting down to a plate of chicken breasts, but this is not always a realistic option for the average gym junkie. Protein powders are often the most practical choice here, but some more amusing and interesting options beef jerky, deli turkey slice rolls, celery or carrot sticks dipped in low fat cottage cheese or peanut butter.
Protein Yoghurt
Protein yoghurt is another option as far as protein snacks go, but the options are a bit limited. Some supplement companies produce their own protein yoghurt snacks; however, if you want a natural alternative, one of the best options is low fat greek yoghurt. While it's overall protein content is still relatively low (i.e. 10%), you can mix other things in (i.e. berries) to spice up the yoghurt a little.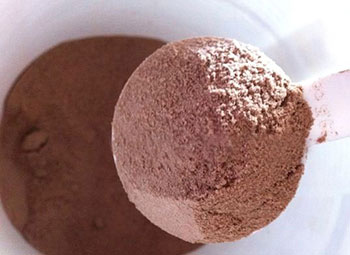 High Protein Low Carb Snacks
High protein low carb is somewhat a catch cry of the sports supplement industry. It's the holy grail that many supplements strive for. The most obvious example is the humble protein powder; be it simple whey or casein protein or even a blended protein that contains a combination of the two. Some more sophisticated supplement options include high protein low carb bars or balls. To keep carb levels down, these types of products rely on using sugar alcohols to make the bars palatable. Sugar alcohols such as maltitol or polydextrose carry very little caloric value, but in certain individuals they can cause bloating because of an inability to fully break them down in the large intestine. On the food front, sushi that doesn't use rice is a great high protein low carb snack that are relatively accessible. Otherwise, something as simple as a chicken and salad wrap is another choice. The best advice is to put some effort into preparing a list of high protein low carb snack options and to make time to allow for the preparation of food in advance instead of leaving it to the last minute.