Protein Cookies
Protein cookies have the convenience of protein bars, but quite often have a much different, and often, more pleasant taste and texture. They are convenient on the go snacks suitable for anyone who needs an extra hit of protein during the day, between meals. With a variety of cookies on the market today, you can always be sure to find one that matches your goals.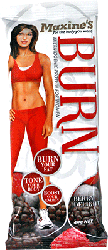 Low Carb Protein Cookies
For those doing some shredding or undergoing weight loss, low carb protein cookies are the way to go. One thing protein cookies do not do as well as protein bars is that to make a cookie, quite a lot of carbs and fat are needed to give cookies their cookie-like texture. Otherwise, the baking process does an excellent job of drying out cookie into a not-so-tasty lump. However, there are a few innovative companies out there that are able to make a low carb protein cookie that still tastes pretty damn good. An excellent case in point is Maxine's Burn Cookies, which are not only delicious, but also contains a modest 7.5 g carbs and a blend of carb blocking and fat burning ingredients.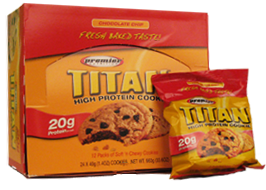 Protein Cookies for Bulking
This is really where protein cookies really start to shine. The extra carbs and fats in a big protein cookie can make a significant contribution to your daily macro requirements. Let's take our favourite protein cookie as an example. Max's Muscle Meal Cookies are 90 g cookies that packs 377 calories, 24 g protein, 39 g carbs, and 13.8 g fat. This makes products such as this, and Premier Nutrition Titan Cookies ideal for packing on some mass.
Whey Protein Cookies
Protein cookies can in theory be made from any protein source. Quite often, manufacturers use a blend of different proteins such as various forms of whey protein, soy, egg, milk, and casein. Such blends have benefits in providing complementary blends of amino acids, sustained amino acid release, and a more pleasant taste and texture. For this reason, unless you are making your own protein cookies, you are unlikely to find a manufactured cookie that is whey protein only.
Protein Powder Cookies
If you have ever considered making your own cookies using protein powder, this actually isn't too difficult, depending on the type of protein powder you use. Just remember, unless you want a very dry cookie, it is necessary to use quite a lot of fat and a good amount of carbs. For this reason, we recommend starting with a mass gainer protein powder as a base. The resulting cookie would be excellent for bulking, but if you're cutting, perhaps a homemade protein bar would be a better option instead of opting for cookies.