ProSupps PSWhey Review
ProSupps, the makers of the intensely powerful pre workout Mr Hyde, have recently released a complete range of protein powders. Heading the list is PSWhey, ProSupp's whey protein blend. With so many other 100% whey proteins on the market, how does PSWhey stack up?
ProSupps PSWhey Highlights
100% whey protein blend containing whey protein concentrate & isolate
Added BCAAs for additional anabolic support
Fantastic taste
ProSupps PSWhey Ingredients
PSWhey contains a blend of whey protein concentrate and whey protein isolate (WPI). In addition it contains added glycine, taurine, leucine, isoleucine, and valine. Each 34 g scoop of PSWhey provides 120 calories, 24 g protein, 2 g fat, and 2 g carbs.
ProSupps PSWhey Effectiveness & Pros
ProSupps PSWhey is a basic protein powder suitable for use by those who wish to increase their general protein intake. The whey blend makes the product effective for use between meals as well as following a workout.
Beyond the basics of what PSWhey can provide as a protein powder, it also has a few other boast-worthy traits. First and foremost, PSWhey is BSF certified, meaning it is certified by a third party organisation, to be free of banned substances. This makes PSWhey safe for use by competing athletes, law enforcement officers, and others who may be conscious of product purity. In addition to this, PSWhey is manufactured in a facility that is cGMP certified, meaning the factory operates under current good manufacturing practices, which helps to give good piece of mind relating to safety and quality.
ProSupps PSWhey Cons & Negatives
With consumers becoming increasingly aware of amino spiking, it must be said that that PSWhey does contain far more glycine than average. It can be determined that each 34 g serve of PSWhey contains around 10 g of glycine, which is unnecessarily high. This is absolutely fine for beginners, but a higher purity protein such as ProSupps TC-F Isolate would be a better choice.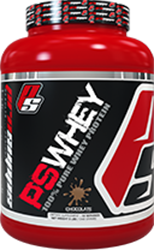 Consumers diagnosed with coeliac disease should also be aware that although the product contains no gluten based ingredients, and his hence labelled as gluten-free, it is actually processed on equipment that may also process wheat. This means that there may be trace amounts of gluten, which may trigger symptoms for the intolerant.
ProSupps PSWhey Taste & Mixability
ProSupps have performed very well in the taste and mixability category. The powder mixes easily into a smooth and slightly thicker textured shake with a fantastic taste. The flavour is rich and delicious, and makes it enjoyable for anyone to down a few serves a day. Currently it is only available in chocolate and vanilla flavours, but both are worthy of praise.
ProSupps PSWhey Verdict
PSWhey is a good simple protein for beginners. Well priced and with a delicious taste, PSWhey may very well be a popular choice for Australian fans of the Pro Supps brand. However, the more serious trainers would benefit more from the more focused ProSupps TC-F Isolate.