ProSupps PS Whey
PS Whey Facts
PS Whey is a new addition to the Pro Supps lineup that is due to arrive in Australia soon. PS Whey, no doubt short for, Pro Supps Whey is the company's long awaited addition to the 100% whey protein category. With such fierce competition in this mature market, PS Whey will certainly have its work cut out for it.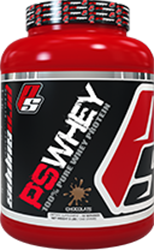 PS Whey Review & Ingredients
PS Whey will be a relatively simple product containing a protein blend of whey protein isolate and whey protein concentrate. In addition there will be some added amino acids including glycine, taurine, and of course, the BCAAs. Each 34 g scoop will contain 24 g protein, 2 g fat, 2 g carbs, and 120 calories. That equates to a powder that is approximately 70% protein, a figure that is about average for an American protein powder, but it does fall short compared to Aussie brands such as Maxs Super Whey and Elemental Nutrition 100% Whey.
PS Whey will be available in a 2.3kg tub and a 4.5kg bag, a sizing strategy that directly takes on industry heavy weights, Optimum 100% Whey Gold Standard.
PS Whey Release Date
Although there is no official word on the release date yet, teaser pictures have already been released. We do not expect this product to take too long before it arrives in Australia, possibly in the middle of 2014.