Pro Supps TC-F Isolate Review

After releasing some of the most goal focused pre workouts around, Pro Supps have taken the plunge into the protein powder market with the release of three new protein powders. Of this bunch, TC-F Isolate is Pro Supp's version of a whey protein isolate. With such a strong dominance of Australian and New Zealand WPIs, can this American entry stack up?
Pro Supps TC-F Isolate Highlights
100% triple cold filtered whey protein isolate for maximum quality
Approximately 87% protein
Ideal for use before and/or after training
Pro Supps TC-F Isolate Ingredients
A relatively simple product, TC-F Isolate contains few ingredients. Other than triple cold filtered (TC-F) whey protein isolate (WPI), the only other active ingredients are added glutamine and glycine.
Pro Supps TC-F Isolate Pros & Effectiveness
The benefits of having a pure WPI are endless. This form of protein is the scientific benchmark upon which all protein powders are compared to. Containing almost 87% protein, TC-F Isolate is essentially fat and carb free and digests rapidly and easily once consumed. This makes it an ideal protein powder for anyone who needs a protein for use around the time of a workout, whether immediately before or after.
Being free from carbs and sugar also means that the protein is lactose free, which makes it an excellent product for those who are lactose intolerant.
Perhaps the biggest selling point is the method in which TC-F Isolate is manufactured. Using cold filtering technology is said to have many benefits in being able to retain protein quality and biologically active fractions compared to the more oldschool ion exchange, heat, or acid processed methods.
TC-F Isolate is therefore one of the few American made WPIs that is actually a serious competitor against all the best Australian and New Zealand manufactured WPIs.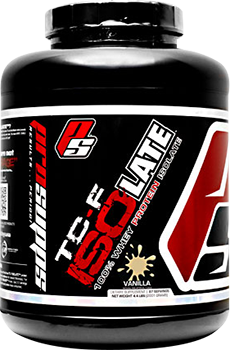 Pro Supps TC-F Isolate Cons & Negatives
Much like all other WPIs, TC-F Isolate runs into the same nutritional limitation. That is, because it is relatively fast absorbing, it is not a protein powder that will sustain muscle building for very long. Customers of this product would need to understand the importance of nutrient timing, and follow up with a solid meal.
The added glutamine and glycine to the formulation is questionable. Although the manufacturers do not disclose the exact amount, the fact that it appears after the flavouring agents is a hint to its low dosing. This isn't really the end of the world, because a good quality WPI similar to TC-F naturally contains a heap of glutamine and glutamine related compounds, and can reach almost 15 g/100g.
Pro Supps TC-F Isolate Taste & Mixability
One noticeable difference between TC-F Isolate and locally made WPIs is that TC-F is noticeably thicker in texture, a common American trait. Despite this, the powder mixes easily and tastes simply fantastic. There are only chocolate and vanilla varieties at the moment, but both flavours are rich and mouth-watering, without a shadow of doubt as to what they are supposed to be. In short, TC-F Isolate is among the best tasting WPIs around.
Pro Supps TC-F Isolate Verdict
With products like Pro Supps TC-F Isolate, the Americans are finally showing us Aussies that they too can make a WPI that is not only industry leading in quality, but also in taste. If you are looking for a zero carb, zero fat whey protein isolate, manufactured with the latest techniques, check out the new Pro Supps TC-F Isolate.