ProSupps Incredibulk Review

Although a relatively young company, ProSupps have carved out a solid reputation for the manufacture of good quality, scientifically backed products. The company looks to be expanding their range, and have just unleashed their first mass gainer. Following a name change between announcement and release ("Incredible Bulk" became "Incredibulk", presumably due to a challenge from MVP Biotech, who thought of this excellent pun first), the distinctively red-and-white packaged hardgainer formula is on the shelves and ready to go. So what do you need to know about Incredibulk?
ProSupps Incredibulk Highlights
*Unique Formula with two carbohydrate sources
*Added BCAAs and Creatine for muscle bulk
*Designed for the hardest of hardgainers
ProSupps Incredibulk Ingredients & Dosage
ProSupps have made it abundantly clear that Incredibulk is not like other super mass gainers, and advertise the two carbohydrate sources, maltodextrin and fructose, as a point of difference over similar hardgainer formulas like Optimum Nutrition Serious Mass, which derives its carboydrate content from maltodextrin only.
Incredibulk uses a protein matrix comprised of "whey cream", which we assume is a high fat whey concentrate, and whey protein isolate. The protein content, which comes in at a massive 56g per serve, is supplemented with muscle building BCAAs and creatine to help Incredibulk users meet their muscle building goals.
Each whopping 336g serving of Incredibulk packs 1300 calories, or just over 5400kJ, which means each 12lb (5.45kg) bag contains 16 serves.
ProSupps Incredibulk Pros & Effectiveness
Incredibulk belongs to a class of mass gainer that is designed to promote weight gain in even the skinniest ectomorph. There is very little chance that anyone using Incredibulk in addition to a balanced diet will fail to gain weight, as each serving contains over 50% of the recommended daily energy intake for an average male.
Maltodextrin is the most common carbohydrate source in mass gainers. This rapidly absorbed glucose derivative is joined by fructose in Incredibulk. Fructose is a rapidly absorbed monosaccharide with one of the lowest GIs of any sugar, which means it does not cause the peak and trough in blood sugar and insulin that some other sugars can cause, while still providing the body with energy. Fructose is thought to play less of a role in stimulating the satiety centres than some other sugars, which is an attribute in this sort of product.
Although whey protein is naturally high in BCAAs, the addition of extra anabolic amino acids, particularly leucine which is known for stimulating muscle growth, helps to ensure that the extra energy is used to put on muscle. Creatine is also an inspired addition. In addition to the immediate boost to the physique that creatine can provide, the physical swelling of muscle cells that creatine causes is a known anabolic trigger.
ProSupps Incredibulk Cons
Like many hardgainer formulas, Incredibulk has a serving size that borders on the ridiculous. While this is necessary to provide massive amounts of energy in a single serving, slogging your way through such an enormous shake can be quite difficult, and can make it difficult to maintain normal eating patterns. This, unfortunately, can slow the rate of gains. Splitting each serving into smaller portions can help stimulate appetite.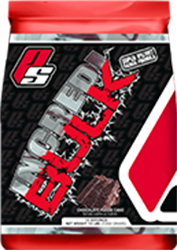 Many people use mass gainers as a meal replacement and the addition of vitamins and minerals may have made this a more nutritionally complete supplement. Healthy fats, like Medium Chain Triglyceride or Omega-3s would also boost Incredibulk's nutritional value. Incredibulk does have a clever formula, but it is a bit less comprehensive than some competing products.
ProSupps Incredibulk Taste & Mixability
Incredibulk comes in four classic flavours - Vanilla, Chocolate, Cookies and Cream, and Peanut Butter. Like many US-made proteins, it is on the thick side, and the combination of maltodextrin and fructose, in addition to sweetening agents Acesulfame-K and Sucralose mean it is very sweet. It may be easier to drink with a bit of extra water added. All flavours have been very well received, particularly by those with a sweet tooth.
ProSupps Incredibulk Verdict
ProSupps have made a solid product, obviously been formulated with the latest research in mind, that is unique enough to distinguish itself from other products in the market. This is a failsafe product for hardgainers looking to add lean muscle, as long as they can deal with the huge serving size.