Pro Supps Incredible Bulk Review
Pro Supps have just announced the future release of a mass gainer called Incredible Bulk. Let's look at what we know so far.
Incredible Bulk Facts
With their ever-increasing range of products and distinctive red and black packaging, Pro Supps are becoming an increasingly visible presence in the marketplace. The company has been quite active recently, following up the announcement that they are set to revive Pure-Karbolyn, their pure carbohydrate formula, with the news that they are gearing up to release a new mass gainer onto the market, which the pun afficionados at Pro Supps have named "Incredible Bulk".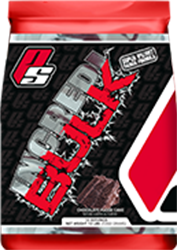 Incredible Bulk Review & Ingredients
Pro Supps have released some preliminary information on Incredible Bulk. Packing an estimated 1300 calories into a massive 340g serving size, Incredible Bulk is clearly aimed at super hard gainers. The company hasn't revealed much, but we know the formula contains two different types of carbohydrate and is fortified with individual amino acids. In terms of serving size and calorie content, Incredible Bulk appears quite similar to products like Optimum Nutrition's Serious Mass and Jay Cutler 100% Pure Muscle Mass Elite Series, and it is sensible to assume, as in these products, that each dose of Incredible Bulk contains about 50g of blended protein.
Pro Supps have so far previewed one flavour, the appetising Chocolate Fudge Cake, and have confirmed that Incredible Bulk will be available in two sizes – a larger 12lb (5.44kg), 16 serving size, and a 6lb (2.72kg) containing 8 serves.
Release Date
Pro Supps have not yet named a release date for Incredible Bulk, and it is listed as "coming soon" on their website. In the meantime, all we can do is marvel at the information we have been given and wait to see if Incredible Bulk can smash the competition.