Pro Supps Hydro BCAA Review
Pro Supps have slowly but surely carved out a strong reputation for themselves in overseas markets including Australia and New Zealand. As makers of the ever popular pre workout combo Dr Jekyll and Mr Hyde, Pro Supps have focused on quality and effective formulas. One of their newest supplements that is exclusive to the international market is the well dosed BCAA supplement Pro Supps Hydro BCAA.
Pro Supps Hydro BCAA Review & Ingredients
The Hydro BCAA provides a hit of BCAAs and electrolytes making it the ideal intra workout supplement. The formula contains: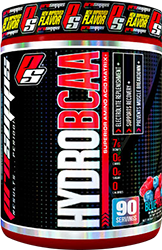 Electrolytes & Minerals – Including calcium, magnesium, phosphorus, sodium and potassium.
BCAAs & Amino Acids – Leucine, isoleucine, valine, glutamine and citrulline.
As you can see, it's an extremely simple formula that provides 7g of BCAAs per serve and some extras. The entire formula is transparently dosed so you know exactly what you're getting, which is a no frills intra workout. Pro Supps have gone large with this product and have created a 90 serve tub (1.2 kg), with each serve measuring 13.7g
Pro Supps Hydro BCAA Flavours, Taste & Mixability
The new Hydro BCAA is available in three flavours including Lemon Lime, Blue Razz and Pineapple. Pro Supps supplements are generally great tasting products, especially when it comes to their fruitier non-protein supplements. As such, we're expecting Hydro BCAA to taste and mix just as well.
Pro Supps Hydro BCAA Release Date
No official release dates have been announced for the new Pro Supps Hydro BCAA, but with the panel and images already available, we expect it to come out extremely soon, perhaps around September 2015.