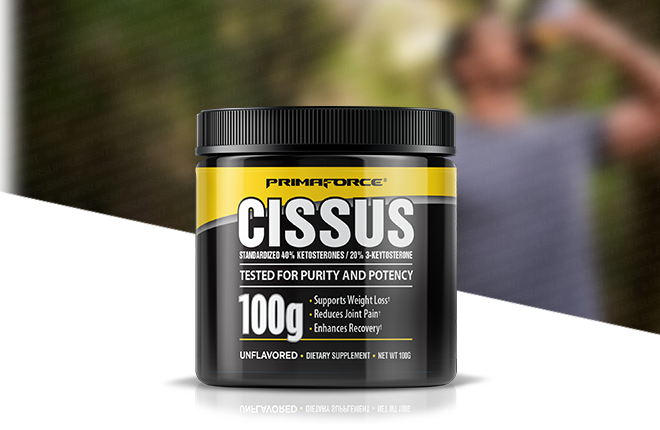 Primaforce Cissus contains a super high-potency extract of Cissus Quadrangularis standardized for 40% total Ketosterones and 20% 3-Ketosterone and is lab tested for potency and purity. Cissus can help support optimal joint health, enhance recovery, support healthy weight management, and is a potent antioxidant.
PrimaForce® Cissus can be an effective weight loss tool. Cissus quadrangularis is a perennial plant that's closely related to grapes. It's best known for its fat-burning powers so is commonly used for weight loss in conjunction with a healthy diet and regular exercise. Other benefits include reduced inflammation, and improved bone and joint health.
HIGHEST QUALITY: Lab-tested for potency and purity. We use only pharmaceutical-grade, clinically-tested ingredients that are backed by the latest research and development.
SUPPORTS WEIGHT LOSS: Useful for weight management through fat burning.
REDUCES JOINT PAIN: Provides support for healthy bones and joints, and reduces inflammation.
ENHANCES RECOVERY: Enhances post-workout recovery.
Product Highlights
Pure Cissus Quadrangularis Extract
Reduce Inflammation & Improve Bone/Joint Health
Support Weight Loss & Fat Burning
Potent Antioxidant to Protect Immune Health