https://www.mrsupplement.com.au/power-switch?variation=11547
Switch Power Switch (165g / 30 Serves Mango Pineapple)
Switch Nutrition
Supplements > Pre Workout > Pre Workout
https://cdn.mrsupplement.com.au/resources/imgs/products/power-switch.1612481983584.png
http://schema.org/NewCondition
http://schema.org/InStock
AUD
https://www.mrsupplement.com.au/power-switch?variation=11547
59.95
AUD
https://www.mrsupplement.com.au/power-switch?variation=11546
Switch Power Switch (165g / 30 Serves Peach Lemonade)
Switch Nutrition
Supplements > Pre Workout > Pre Workout
https://cdn.mrsupplement.com.au/resources/imgs/products/power-switch.1612481983584.png
http://schema.org/NewCondition
http://schema.org/OutOfStock
AUD
https://www.mrsupplement.com.au/power-switch?variation=11546
59.95
AUD
https://www.mrsupplement.com.au/power-switch?variation=11548
Switch Power Switch (165g / 30 Serves Red Raspberry)
Switch Nutrition
Supplements > Pre Workout > Pre Workout
https://cdn.mrsupplement.com.au/resources/imgs/products/power-switch.1612481983584.png
http://schema.org/NewCondition
http://schema.org/OutOfStock
AUD
https://www.mrsupplement.com.au/power-switch?variation=11548
59.95
AUD

Power Switch
Naturally Flavoured Power Pre Workout
Increase mental energy and focus
Pump & Vasodilation from Vaso6™
No crash, No jitters
Natural Flavourings & Colours with Added Vitamins
In Stock

(3)
Write a review
Product
Q&A's
Reviews
Add To Cart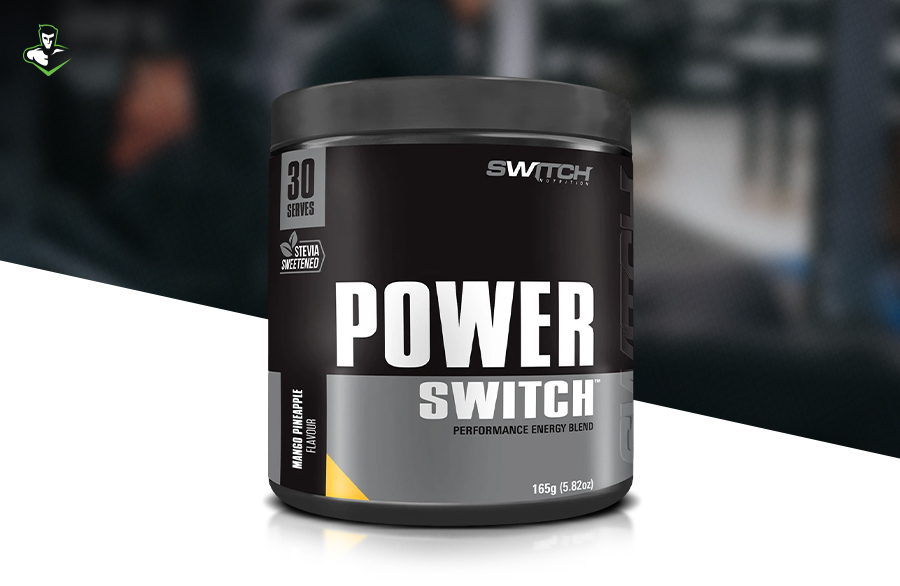 A powerful blend of Natural Caffeine, Hordeum, EnXtra™ and Theobromine (from theobroma cacao) will enhance alertness and support your energy needs.

With the addition of VASO6™ (from green tea), you are sure to achieve next-level results.

The addition of Vitamin B12 may help support your energy metabolism and reduce fatigue.

The combination of Vitamin B6 and Folate may help support amino acid metabolism and recovery.
Contains Pure Creatine HCL, Glycerol Monosterate and L-Tyrosine.
Q&A's
Ask a question about
Switch Power Switch
Reviews

Great

Based on reviews collected by
&
Write a review

Switch Power Switch
Switch Power Switch
Switch Power Switch
165g / 30 Serves Red Raspberry
Raspberry flavour taste like asshole and the taste makes me sick
Collected via Trustpilot
Switch Power Switch
Switch Power Switch
Switch Power Switch
165g / 30 Serves Mango Pineapple
Good pushing good pump for doing hard workouts I love it
Collected via Trustpilot
Switch Power Switch
Switch Power Switch
Switch Power Switch
165g / 30 Serves Mango Pineapple
Tastes great works well
Collected via Trustpilot
Next Page
Contact Us