Platinum Labs OptiBurn AMPED Review
Platinum Labs is a relatively new player in the Australian supplement industry, but is already making waves with two of their initial supplements including their pre workout supplement DEFCON 1 and their powerful fat burner OptiBurn AMPED. Let's take a look at what's in their fat burner and how it compares with other similar supplements on the market today.

Platinum Labs OptiBurn AMPED Highlights
Comprehensive fat burner supplement to support appetite suppression, fat burning and mood.
Included diuretics to help shed unwanted water weight
Strong stimulants and mental performance enhancers to help with focus, attention and energy.
Platinum Labs OptiBurn AMPED Ingredients & Dosage
Platinum Labs OptiBurn AMPED is actually a reformulated and revamped version of their original fat burner OptiBurn. The reason for the change was due to the banning of a certain ingredient in the original known as Methyl PA. The new OptiBurn AMPED now contains:
Taurine
Acetyl L-Carnitine
CLA (Conjugated Linoleic Acid)
Nelumbo Nucifera Extract
African Mango Extract
Horsetail
Higenamine
Green Coffee Bean
Buffered Caffeine
Raspberry Ketones
Green Tea Extract (98% EGCG)
Dandelion Root
The supplement comes with 45 serves of 8g and is completely calorie, carbohydrate and fat free.
Platinum Labs OptiBurn AMPED Pros & Effectiveness
One of the best aspects of the revised Platinum Labs OptiBurn AMPED is the comprehensive and well rounded nature of their use of ingredients and its effects. You can really summarise their formula into 4 key effects:
Stimulants – Buffered caffeine and green tea extract all have stimulatory effects and help promote focus, attention and workout capacity whilst also providing a strong appetite suppressant effect.
Metabolism Boosters – African mango extract, green coffee bean extract, conjugated linoleic acid (CLA), acetyl l-carnitine, higenamine and the stimulants mentioned above have all been shown to support increases in metabolism which can support fat loss and weight loss.
Mental and Mood Enhancers – Taurine, acetyl l-carnitine and the stimulant ingredients all help to boost mental energy and mood, which can be down during long term calorie restricted diets.
Diuretics – Horsetail, dandelion root and the stimulant ingredients can all have some diuretic effect, helping to shed stubborn and excess water weight.
As you can see, OptiBurn AMPED helps to target some of the most pressing areas associated with fat and weight loss with a range of popular, topical and well researched ingredients.
Platinum Labs OptiBurn AMPED Cons
The biggest problem with Platinum Lab's OptiBurn AMPED is the absence of any detail on how much of each ingredient there is in the product. Proprietary formulas are slowly losing out in favour of their transparently dosed counterparts and if Platinum Labs wants to become a more credible company, then they need to start advertising the doses of their ingredients used. The only dosing we do know is that OptiBurn AMPED contains 200mg of Raspberry Ketones, 2000mg of Acetyl L-Carnitine and 250mg of Green Tea Extract, which are all decently dosed.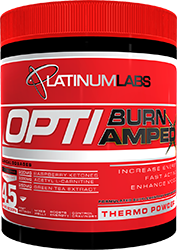 Platinum Labs OptiBurn AMPED Taste & Mixability
Platinum Labs OptiBurn is available in three delicious flavours including: Watermelon, Peach and Lemon Lime. One thing that Platinum Labs does extremely well is in the flavouring of their products and OptiBurn AMPED is no exception being one of the best tasting fat burners on the market. The powder mixes extremely easily, even via stirring and is so easy to drink.
Platinum Labs OptiBurn AMPED Verdict
The original Platinum Labs OptiBurn was one of the strongest fat burners around and really excelled at supporting mental focus and attention, whilst promoting fat burning. The new OptiBurn AMPED captures the essence of the original but provides a cleaner and longer lasting energy boost with 4 times the amount of acetyl-carnitine. If you're after a tasty and strong fat burner which will also provide you plenty of energy throughout the day, then OptiBurn AMPED is an ideal choice.