PEScience Select Protein Review
Select Protein is the latest addition to PEScience steadily growing product line up. In a market overcrowded with blended whey proteins, Select Protein is a breath of fresh air with its whey and casein blend. Let's have a look at what Select Protein has to offer.
PEScience Select Protein Highlights
The key highlights of Select Protein are its blend of casein and whey and the inclusion of Leu Pepform, a patented form of whey-derived leucine peptides made by Glanbia. The main premise of Select Protein is that it offers both a quick and slow source of amino acids for muscle recovery following resistance exercise. They cite a study showing greater lean mass gains when using whey and casein versus whey and BCAAs and glutamine.
PEScience Select Protein Ingredients & Dosage
The 'Ultra Premium Protein Blend' in Select Protein is made up of 3 different protein sources, with the first one being milk protein isolate. Milk protein as many will know is composed of two main types of proteins, namely caseins and whey proteins, with casein being the most dominant, (i.e. around 80%). The second protein to feature is an 80% whey protein concentrate (WPC). To be honest, an 80% WPC is one of the most basic forms of whey protein and consequently one of the cheapest. Having said that, WPCs generally have high bioactivity because they are not typically subject to heat or acid often used in the purification/fractionation of more expensive whey protein isolates. The last and arguably most innovative ingredient is Leu Pepform – a specialised form of peptide-bonded amino acids. This ingredient really is a top inclusion because it is well established that when delivered in peptide form, leucine is taken up more quickly and is the primary driver of muscle protein synthesis.
As far as dosage goes, together the three protein sources provide a total of 24g of protein per 31g serve, which is not amazing but also not bad. Each serve only comes with 1g of carbohydrate which is pretty good, given that WPC is one of the protein sources. As a bonus, Select Protein is certified gluten-free which is proving to be more and more important nowadays.
PEScience Select Protein Pros & Effectiveness
PEScience do cite some good studies and provide some sound reasoning for the use of a combined whey and casein supplement like Select Protein. The combination of a milk protein isolate together with a WPC and leucine peptides is well thought out and should bid well for average gym junkie hitting the gym daily and looking to maximise their gains. Because it's a blend of three proteins, Select Protein is a great all-day every day protein suitable for both post workout or as a meal replacement.
PEScience Select Protein Cons
Invariably there are those who will not buy into the whole casein and whey is better than whey alone argument. But PEScience would have been well aware of this during their product development and are obviously going after the market that values blends of whey and casein.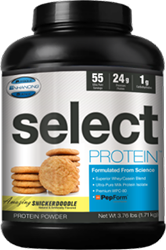 PEScience Select Protein Taste & Mixability
Select Protein comes in three great flavours with snickerdoodle being the most unique. Despite its casein content, it's very hard to detect any sort of chalk-like taste with Select Protein. As such, it's obvious PEScience did their homework in the flavouring department. Mixability poses no problems either; a few quick stirs with the spoon or a couple of shakes in a shaker is all that is required to get it ready for consumption.
PEScience Select Protein Verdict
When all is considered, Select Protein is a quality protein supplement with some great points of difference that should entice plenty of new buyers. It's relatively even blend of casein and whey proteins should appeal to many and backed with a great taste and sound science, it well worth a try.