PES Erase Pro Review
Physique Enhancing Science or PES are a relatively new supplement company who have generated great interest thanks to their unique range of effective supplements. Their flagship product Alphamine is one of the better fat burners around at the moment and easily rivals other popular products such as OxyShred and Hydroxycut. One of their newest products to be reformulated into powder form for the Australian market is their definition supplement PES Erase Pro.
PES Erase Pro Highlights
Anti-aromatase and anti-estrogen ingredients
D-Aspartic Acid to support testosterone
Agmatine to boost absorption of active ingredients
Perfect to stack with PES Alphamine for enhanced cutting
PES Erase Pro Ingredients & Dosage
PES Erase Pro is one of the simplest supplements to come out in recent times with only 4 active ingredients including:
Sodium D-Aspartic Acid
Agmatine Sulphate
Abieta-8, 11, 13-trien-18-oic Acid or Dehydroabietic Acid
Boerhaavia Diffusa Extract
Uncaria Tomentosa (Bark) Extract
All the other ingredients are either flavours, sweeteners or other ingredients to help preserve shelf life. Each tub of PES Erase Pro contains 30 servings of roughly 5.9g and is calorie, fat, carbohydrate and sugar free.
PES Erase Pro - Pros & Effectiveness
PES Erase Pro is an interesting supplement that combines together testosterone support ingredients, nitric oxide boosting/absorption enhancer ingredients as well as anti-estrogen ingredients. Erase Pro first and foremost is considered an anti-estrogen supplement thanks to its use of a range of ingredients which have shown anti-aromatase activity. Dehydroabietic Acid, Boerhaavia Diffusa and Uncaria Tomentosa have all been shown to anti-aromatase activity; aromatase being the enzyme that converts testosterone into estrogen. D-Aspartic Acid is also an excellent testosterone support ingredient, but is generally more effective for older males than younger ones. Agmatine is a very topical ingredient and its main function in PES Erase Pro is most likely to support delivery of ingredients thanks to its potential to enhance pump and nitric oxide synthesis.
In terms of real effects, Erase Pro definitely seems to have a beneficial effect on strength and over the course of 30 days, you do get a sense that you've leaned out and is an ideal supplement to use just before your cut.
PES Erase Pro - Cons
While Erase Pro from PES certainly has plenty of ingredients that can support decreased estrogen and increased testosterone, which can influence body composition in favour of lean muscle mass; the anti-estrogen ingredients utilised just don't have enough studies to conclusively state its effectiveness. However, it is promising that there are studies that show the ingredients do have some anti-aromatase effect. Erase Pro also utilises a proprietary blend of ingredients making it hard to analyse if you're getting enough of each ingredient. Since you need at least 3g of D-Aspartic Acid for any real effects, this doesn't leave much for the other ingredients. Fortunately, the other ingredients work well in fairly low doses.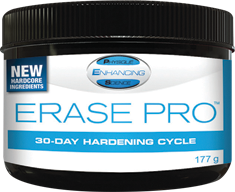 PES Erase Pro Taste & Mixability
PES Erase Pro is available in two flavours, Mango Splash and Blueberry Burst. Both are interesting but delicious flavours and mixes easily without any clumping or residue. None of the flavours of Erase Pro are particularly strong or have an aftertaste making it easy to drink.
PES Erase Pro Verdict
The powder version of PES Erase Pro was specially designed for the Australian market and combines a good range of anti-estrogen and testosterone boosting ingredients. Best utilised with PES Alphamine as a cutting stack, Erase Pro will help you to maintain your strength whilst you're shredding and while not the strongest testosterone booster around, does a mighty fine job.