Personalised Nutrition According to Blood Sugar Response
What if people's blood sugar response to a meal was more influenced by the individuals genetics and microbiota (i.e. collective mass of microorganisms in the gut) than the food itself. Moreover, what if health professionals were able to prescribe a personalised diet that was guaranteed to reduce blood sugar levels (and associated risk for diabetes and obesity) based on factors such as composition of gut microbiota, physical activity, anthropometrics and various blood parameters?
This scenario may be a reality sooner than we think with the dramatic findings of new landmark study published in the prestigious journal, Cell. In this one-of-a-kind study, researchers took a total of 800 people and monitored their blood glucose levels 24 hours a day for a whole week (via a subcutaneous implanted device) as shown in diagram below.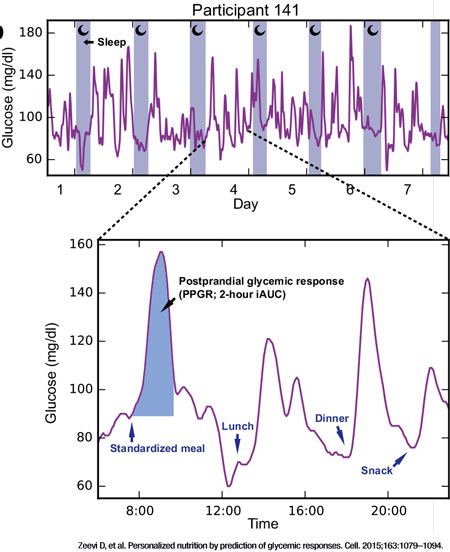 During this time, they had each subject use their mobile phone to record everything they ate as well as bowel and exercise habits, plus sleep patterns. Each participant was also subject to a battery of blood tests that included some of the common markers relating to measures of blood sugar control, inflammation and heart disease risk. On each day, subjects ingested a standardised meal/item (eg. bread, glucose, fructose) in order to directly compare blood glucose responses to a range of common food items. The diagram below gives a nice graphic summary of the study design.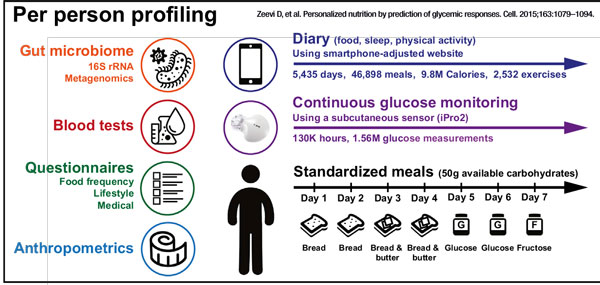 The major findings to emerge from the study was that there was large variability in individuals post-meal blood glucose responses to meals that contained identical foods or food items. The example below shows the comparative response for two individuals to bread vs glucose and cookies vs bananas.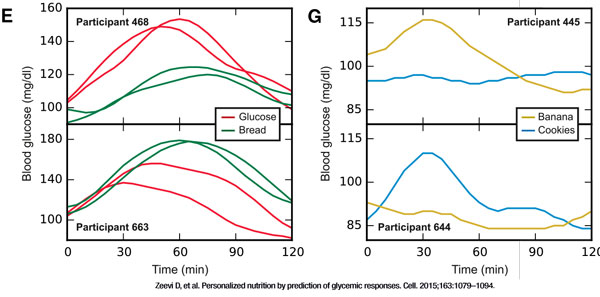 Even more interesting, the researchers found that there were significant correlations between the type of the bacteria and the blood glucose response to different foods.
The researchers then set about using the massive array of data they had collected to create an algorithm that could prescribe an ideal diet designed to minimise post-meal blood glucose fluctuations based on the same type of data collected from the initial 800 cohort.
This algorithm was then used to prescribe a "good" and "bad" diet in a randomised, crossover, double blind fashion to a new group 100 subjects. As predicted the "bad" diet was effective at increasing blood sugar levels and the levels of bacteria associated with poor glucose control, while the good diet did the opposite. The intriguing finding however, was that some foods formed part of both the "good" and "bad" diets as shown in the diagram below.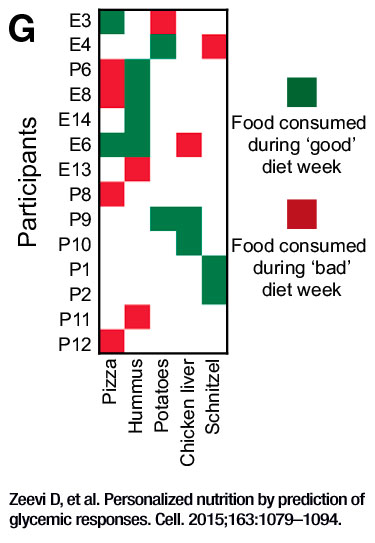 The full-text of the study is available for download and contains a massive array of data, diagrams and graphs for the tech savvy reader. The study is sure to spark further research that seeks to both confirm these initial findings as well as define better the factors responsible for the different blood sugar responses to the same food in individuals. The most startling revelation to emerge is that universal dietary recommendations designed to reduce risk of diabetes and obesity may have limited utility. Governments and organisations involved in public health policy may need to re-evaluate their dietary guidelines if future research can confirm these findings. The time may come when more targeted advice can be given after appropriate tests and tracking of blood glucose responses to a range of foods.
Zeevi D, et al. Personalized nutrition by prediction of glycemic responses. Cell. 2015;163:1079–1094.