Partial Range Reps
What are Partial Range Reps?
Partial reps are reps during which the weight is not lifted through the entire range of movement (ROM) of the joint. For example, during a bench press, the bar is only brought down half way, instead of almost touching the chest.
The Full Range of Motion Dogma
Quite often, it is encouraged for people to train within their full ROM because it is believed this is the best way to build muscle and strength. Anything less is considered to be "cheating" and that although more weight can be lifted, it does not necessarily lead to greater improvements in strength or muscle growth. Or does it? There has been much interesting research conducted over the recent years regarding "variable range of movement" (VROM) or partial ROM training, and how it compares to training the full ROM.
Partial Range Rep Research
Many years ago, there were already some studies regarding training within a limited range of motion. It was shown that isometric (static holds) strength increases only in the range through which the muscle is trained (Graves et al, 1989). This was really no ground breaking science and there was nothing here that shocked anyone. However, what should really be pointed out is that isometric strength is only one form of strength testing, and it can be argued that it is not the most function test. This was really only the early years of research into this form of training, and later more evidence came to light.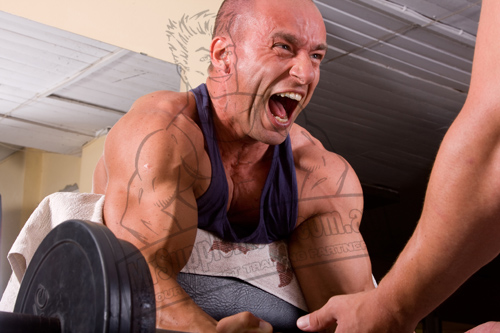 A more recent study assigned untrained men into one of three bench press training groups. These groups included training only full ROM, training only partial ROM, and training with a combination of full and partial ROM. A one rep max (1RM) test was given before and after the 10 week training protocol. It was found that all three groups increased their full ROM bench press equally, with no training method being superior to the others. The authors therefore concluded that partial ROM training was effective in increasing strength and that weight lifters can confidently include this method as part of their training (Massey et al, 2004). If you think this goes against what you believe in, wait till you read the following couple of studies.
A group of Israel exercise scientists found that there were signs of neurological adaptations (an indication of increasing strength) occurring in regions outside the trained range. However, these adaptations did not occur through the entire ROM (Barak et al, 2006). What do these lab results mean when they're put into practice? The next study tells an interesting study.
A resistance trained group of men were recruited to participate in different training methods. They underwent a bench press program which included only full ROM training or a VROM program which involved performing the bench press at the full ROM in combination with partial ROMs (half and quarter ROMs). The subjects underwent strength tests, before and after the 5 week program, which involved normal bench presses, ballistic bench throws, and isometric bench presses to test a variety of different strength parameters. Results showed that none of these trained men experience any improvements in strength in the first quarter of the bench press movement. However, only those using VROM saw improvements in force in the third and final quarters of the bench press (Clark et al, 2001). What this study shows, is that when it comes to dynamic force and reactive strength, that requires peak force at a various ROMs (such as in sports), VROM training may be superior to the traditional full ROM training. The authors go on to recommend that VROM training should be incorporated into an athlete's routine to improve performance and reduce risk of injury (Clark et al, 2001).
Partial Range Rep Negatives
Although there is evidence to suggest that VROM training has its benefits, it is not suitable for everyone. Beginners to weight lifting should adhere to the traditional form of using the full ROM. This serves two purposes. Firstly, the heavy loads required for this form of training to be effective means that it is only suitable for those with sufficient weight training experience (Clark et al, 2001). Additionally, it is important for beginners to learn proper form and the basics of weight lifting before they dive into more advanced techniques. This will prevent developing bad habits and may also help to reduce injuries later on.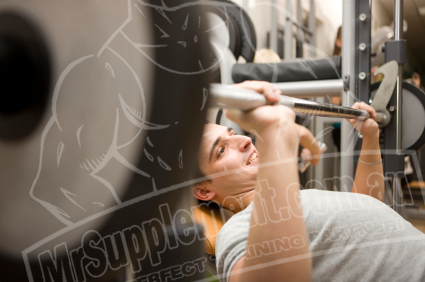 If we were to use the Clark et al (2001) study as the golden benchmark, it unfortunately does not provide any evidence that VROM training was able to increase strength at the initial ROM phase (ie, point where barbell is closest to chest). This makes sense, as this area is well outside of the range being trained. However, it also means that if you rely greatly on exerting force in this region, VROM in this form, may not be the best technique for you. Perhaps it would be possible to increase the strength within this region if it was the outer region (when elbows are fully extended) that was excluded during certain sets.
Partial Range Reps for Bodybuilding
An important factor to note is that none of the above mentioned studies looked into muscle hypertrophy. The researchers went to great lengths to study power output, strength, and even neurological improvements, all of which positively affect muscle development. However, training for lean mass can often be quite different from training for strength. Thus, although VROM training may be beneficial for enhancing performance, there is not yet any information that shows it is more effective than full ROM exercises if your goal is to increase muscle size. It is possible that full range of motion exercises are still best for bodybuilders as it maximises the stimulation of the number of muscle fivres.
Partial Reps Recommendations
As a result of all the above information, it can be said that VROM training can be beneficial for strength and power athletes, or those weight training to improve athletic performance. It may even be superior to traditional full ROM exercises for increasing dynamic strength and to break plateaus. However, because there is not yet any indication that this form of training is more effective for muscle hypertrophy, it is not currently recommended for bodybuilders or those looking to put on muscle size alone.
Barak et al (2006), Spectral EMG changes in vastus medialis muscle following short range of motion isokinetic training. Journal of Electromyography and Kinesiology, 16: 403–412
Clark et al (2001), The influence of variable range of motion training on neuromuscular performance and control of external loads. J Strength Cond Res, 25(3): 704-11
Graves et al (1989), Specificity of limited range of motion variable resistance training. Med Sci Sports Exerc, 21: 84-89.
Masset et al (2004), An analysis of full range of motion vs. partial range of motion training in the development of strength in untrained men. J Strength Cond Res, 18(3): 518-521