Optimum Protein Energy Review
Optimum Nutrition is an industry leading brand, well known for the manufacture of a wide range of top quality products, including 100% Whey Gold Standard, which is the world's number one selling protein. The recent news that the company has decided to add a new protein to their range has been greeted with a great deal of excited speculation. Protein Energy is an energising protein powder that has been designed for busy people looking for a healthier alternative to energy drinks.

Optimum Nutrition Protein Energy Highlights
*Top quality ingredients
*Simple and versatile
*Boosts Energy
*May assist weight loss
Optimum Nutrition Protein Energy Ingredients & Dosage
Protein Energy is based on a high quality protein blend made up of whey concentrate, whey isolate and whey hydrolysate, complemented by a range of vitamins. The energy boosting B vitamins are well represented, with the product boasting thiamine (B1), riboflavin (B2), niacin (B3), B6 and B12. The complex is rounded out by vitamin E, which is a powerful antioxidant.
The energy in Protein Energy comes from a blend of caffeine, which has been naturally extracted from coffee beans, and green tea extract, standardised for energy boosting thermogenic Epigallocatchin gallate (EGCG). Each 15g scoop contains 10g of protein, 1g of fat, and less than one gram of carbohydrate. Protein Energy comes in a 780g package which contains 52 serves.
Optimum Nutrition Protein Energy Pros & Effectiveness
There are very few companies that are as good at making protein as Optimum Nutrition, and you can be sure that anything bearing their name is going to be of a very high standard. Protein Energy carries this mantle well. Whey has the highest biological value protein of any protein source, and Protein Energy's blend of fast acting hydrolysate, isolate, and slower digesting whey concentrate delivers a balanced absorption profile.
Like a number of other Optimum Nutrition products, Protein Energy is simple and versatile. The company has pitched the product as a health conscious alternative to coffee or energy drinks, and it really is something that you can drink any time, whenever you need a pick me up. Protein Energy can also be added to baked goods, sprinkled on cereal, or even stirred into coffee for an extra protein boost that delivers a kick.
There are a number of products on the market that combine protein and energy, most notably weight loss proteins. This type of product commonly balances tried and tested ingredients with newer, unproven ingredients that manifest the weight loss industry's perpetual search for the next new miracle product. Optimum Nutrition has used all natural coffee and tea extracts in Protein Energy, so the effects are predictable, familiar, and best of all, both caffeine and green tea extract are scientifically proven to help the body burn fat, making this is a solid product for anyone looking to improve their physique as well as boost their energy.
Optimum Nutrition Protein Energy Cons, Negatives & Side Effects
It is impossible not to compare this product to 100% Whey Gold Standard, and while it doesn't quite reach the same levels as the world's best selling protein, it comes very close.
Both proteins feature a blend of top quality whey hydrolysate, isolate and concentrate, but they differ slightly in their proportions, with Protein Energy containing higher levels of whey concentrate, while Gold Standard boasts higher levels of whey isolate, which is generally regarded as the higher quality protein. This is, however, comparing apples and oranges – these are two different products aimed at different audiences, and Protein Energy is by no means an inferior effort.
There are people out there who are always on the lookout for the newest technology and the latest ingredient, and Protein Energy is not going to impress this segment of the market. This product is designed for people who prefer the tried and true ingredients and top quality that they know will deliver results.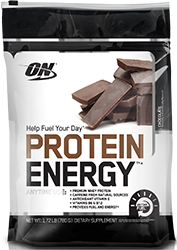 Optimum Nutrition Protein Energy Taste & Mixability
Protein Energy comes in four flavours – Chocolate, Vanilla Latte, Mocha, and Cinnamon. All four flavours complement the product well, and any bitterness that might be caused by the caffeine in this product is undetectable. Protein Energy powder mixes easily into liquid with shaking to form a shake that is a little thicker and richer than 100% Whey Gold Standard, particularly if it's made using milk, but it is easy to drink, and filling.
Optimum Nutrition Protein Energy Overall Verdict
Protein Energy is predictable in a good way, bearing all the hallmarks of clever formulation and high quality that Optimum Nutrition is known for. This is a simple, versatile product that boosts energy, provides a healthy alternative to coffee and energy drinks, and may even help you lose weight.