Optimum New Pro Complex Review
Optimum Nutrition's last addition to their protein line-up was released so quietly that hardly anyone knew it existed, despite possibly being one of the best products on the market. This new addition thankfully has received a little more marketing. It is actually the flagship product of the new purple coloured Pro Series. Yes, there is already an existing Pro Complex, but the new formulation is worlds ahead, read on to find out why.
Optimum New Pro Complex Highlights
Four premium isolate protein sources
Added BCAAs and glutamine, some in peptide form
Over 20% BCAAs by weight
Optimum New Pro Complex Ingredients
The new Pro Complex has one of the most original protein blends currently on the market. It contains a blend of different protein isolates consisting of whey protein isolate, hydrolysed whey protein isolate, egg protein, and hydrolysed egg protein isolate. In addition to this, Optimum have added additional free form leucine, PepForm leucine peptides, glutamine, isoleucine, and valine. In true American fashion, you can also find a digestive enzyme blend in the mix.
The serving size is large, at 76 grams. This provides 270 calories, 60 g protein, 5 g carbs, only 1 g sugar, and 1 g fat.
Optimum New Pro Complex Effectiveness & Pros
When it comes to lean protein powders, few are as effective as the new Pro Complex. It assists with building lean muscle mass and even more so with improving recovery after exercise. The reason for this should not be surprising after we quote some figures for you. Per serve, you're getting 60 g protein, 15.5 g BCAAs, and 10.5 g glutamine. To put that into perspective, the powder is essentially over 20% BCAAs, which is high in anyone's books. To achieve this, Optimum have used only the best quality protein sources, none of which are cheap or nasty.
The rate of digestion for the new Pro Complex ranges all the way from very fast to slow. In order of digestion rate from fastest to slowest; hydrolysed whey, hydrolysed egg, whey isolate, and egg isolate.
The hydrolysed egg protein isolate is in fact a very original inclusion which this reviewer has yet to be seen in other protein powders. Adding alternative protein sources has actually become more common recently, possibly because Optimum have kept up to date with research to show that blends from multiple protein sources have benefits for muscle building compared to single protein sources.
Another benefit of using the above mentioned protein sources is that the resulting product is very low in sugar. The product is virtually lactose free, making it a premium option for those who are lactose sensitive.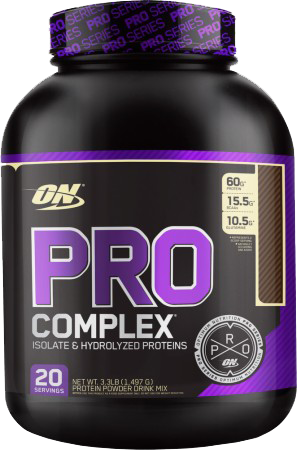 Optimum New Pro Complex Cons & Negatives
The new Pro Complex is an extremely difficult product to fault from a formulation point of view. The only criticism for it is the recommended serve is far too large for the average person. Optimum advertise that Pro Complex should be taken as two scoops, which provides 60 g of protein. However, realistically, a single scoop providing 30 g of protein is more than enough for most people. Don't think that this diminishes the quality of the product in anyway, because you still get almost 8 g BCAAs and over 5 g glutamine per serve. Using a single scoop also doubles the serves from 20 to 40, making it a much better value for money product. Other than this, Pro Complex is as close to perfect as protein powders come.
Optimum New Pro Complex Taste & Mixability
Like all Optimum protein powders, Pro Complex mixes very well, even possible with a cup and spoon. Although some may disagree, but this reviewer personally feels that its flavour is better than the ever popular, 100% Whey Gold Standard. Although it is not much thicker, it does have a richer flavour profile and taste.
Optimum New Pro Complex Verdict
If you liked the old Pro Complex you'll love the new one. We would go as far as to say that the new Optimum Pro Complex is one of the best and most innovative blended proteins currently on the market. It provides excellent sources of protein plus added BCAAs, in a blend that is both unique and effective for muscle building and recovery.