Optimum Nutrition Protein Stix Review
Quick Summary Points for Optimum Nutrition's Protein Stix
Optimum Nutrition Protein Stix are healthy & nutritious snacks that are high in protein and low in carbs
Available in a combination of delicious flavours.
Each bar contains 22g of protein, 7g of fat and 6g of carbohydrates.
Can be used in between meal snack or post-workout.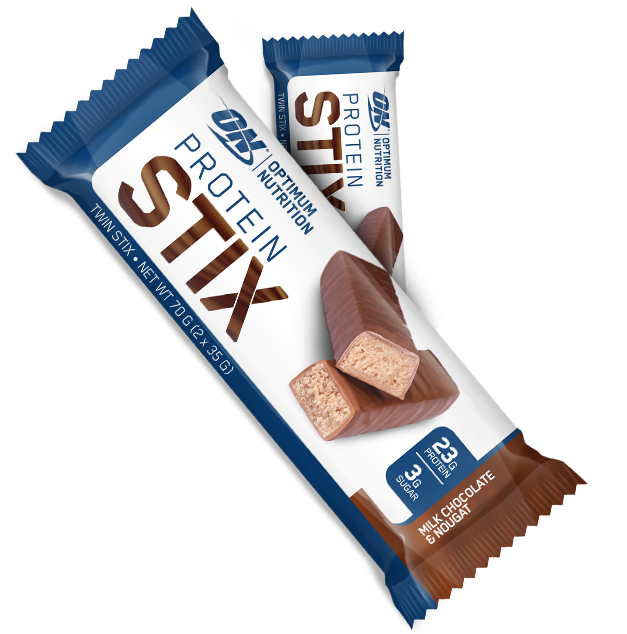 Optimum Nutrition is a highly recognised brand that has been successful in delivering premium products to the market including their best-selling Optimum Nutrition Gold Standard 100% Whey. Optimum Nutrition have created a healthy and nutritious snack to allow users to get a quick hit of protein with a range of confectionary-inspired flavours. For more information on Protein Stix, continue reading on.
Optimum Nutrition Protein Stix Highlights
Healthy & Nutritious snack
20-23g of protein per bar
Excellent portion control
Combination of delicious flavours
Optimum Nutrition Protein Stix Ingredients & Dosage
Protein Stix ingredients contains a simple macronutrient profile. Each Protein Stix twin pack contains the following:
The bar is also made with a variety of protein sources for complete nutrient variability, added fibre for satiety and blood sugar regulation and less than 5g of sugar per bar.
Optimum Nutrition Protein Stix Benefits, Pros & Effectiveness
Protein Stix have been innovative in formulating a healthy, nutritious and versatile snack that tastes delicious. These protein bars are tasty and a convenient way to get your protein fix. The bar itself has a good combination of taste and texture which users will enjoy whether they are on the go, traveling or about to hit the gym. Optimum Nutrition have gained their reputation in the industry by producing the world's number one best-selling protein, this time is no different with their protein bars.
Aside from being a convenient option, by adding Protein Stix it allows you to add ample nutrients to your body which can help you power through your workouts more effectively. If you are looking for a premium protein bar to help fuel muscle recovery look no further than Optimum Nutrition's great tasting Protein Stix.
Optimum Nutrition Protein Stix Negatives & Cons
Unfortunately, Optimum Nutrition have added artificial sweeteners in their protein bars which isn't ideal. For those who are conscious of what they consume and are after a snack that contains strictly natural ingredients then Protein Stix may not be the go.
Optimum Nutrition Protein Stix Taste & Flavour
Protein Stix are sold individually as single stix or double stix in three different variants. Each flavour has been inspired by other confectionary in order to meet the demand of consumers. The flavours of Protein Stix include Milk Chocolate, Nougat & Carmel Flavour, Milk Chocolate & Nougat Flavour, and Dark Chocolate Cherry & Coconut Flavour. As these flavours have been confectionary-inspired, you'd expect the protein bars to taste as close to a chocolate bar.
Optimum Nutrition Protein Stix Verdict
Optimum Nutrition's Protein Stix is gaining much attention thanks to the flavour options and its brand reputation. Protein Stix are great snack options that are high in protein, low in carbs perfect to take on the go or if you are just wanting to add some extra protein in your diet. All in all, Optimum Nutrition have formulated another versatile protein source for all users to enjoy.