Optimum Nutrition Opti-Fit Lean Protein Review
While it may seem that Optimum has every category of protein supplements covered, they've surprised us yet again with the delivery of a brand new supplement known as Optimum Nutrition Opti-Fit Lean Protein; a designated meal replacement protein to be used throughout the day.
Optimum Nutrition Opti-Fit Lean Protein Review & Ingredients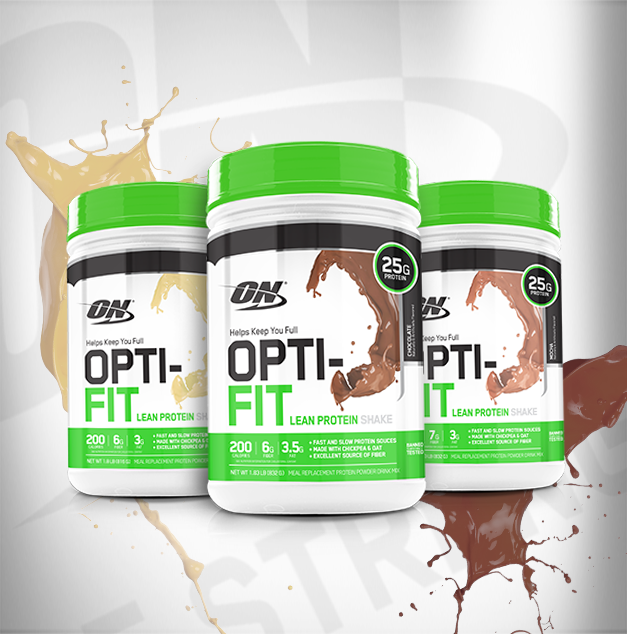 ON's Opti-Fit Lean Protein is a fairly low calorie meal replacement at only 200 calories per 51g serve, but provides 25g of protein, 17g of carbs and 3g of fat. In terms of ingredients, here's what you can expect:
Protein Complex – Whey protein concentrate (WPC) and micellar casein
Carb Blend – Chickpea powder, whole oat flour, chicory root fibre, oat fibre and flaxseed protein
Comprehensive Vitamin & Mineral Blend
It's an interesting supplement release from the veteran company, and they've decided to go with a bold, fluoro green design, a signal for perhaps a whole new "Fit" series of supplements.
Optimum Nutrition Opti-Fit Lean Protein Flavours, Taste & Mixability
The Opti-Fit meal replacement protein will be available in three flavours initially including Vanilla, Chocolate and Mocha. Expect to see more flavours come out quite soon after the release though, just like with Protein Energy. As always, we expect nothing but the best mixability and flavour profiles from Optimum.
Optimum Nutrition Opti-Fit Lean Protein Release Date
No official released dates have been announced for the new Opti-Fit Lean Protein meal replacement, however we don't expect too long of a wait, considering the Olympia weekend is only a couple of weeks around the corner. Expect Optimum Nutrition to drop the products around late September or October 2016, with a worldwide release not long after.