Optimum Nutrition Opti-Bar Review
Optimum Nutrition is best known for their protein powders; including the world's best selling ON 100% Whey Gold Standard. While they've also managed to provide a range of other successful products in other categories; the protein bars and cookies category is one where they've never focused too much attention on. However, one of their latest releases is a inviting looking protein bar known simply as the Optimum Protein Bar from Optimum Nutrition.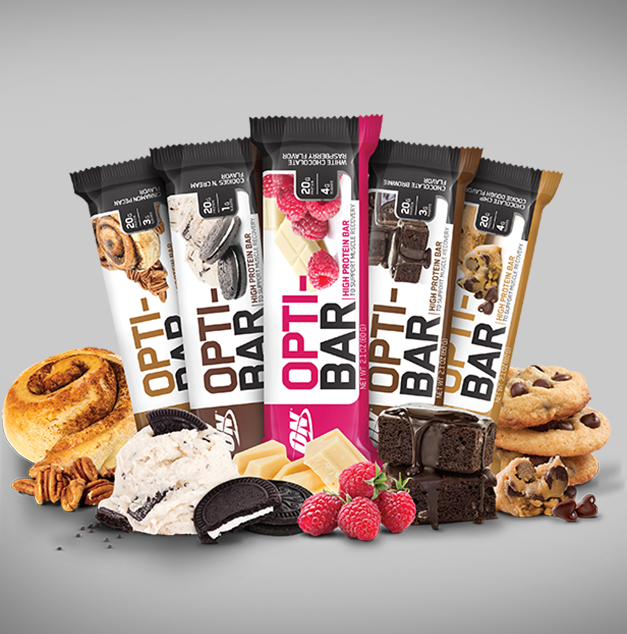 Optimum Nutrition Opti-Bar Review & Ingredients
For those who have been in the industry for awhile, they should know that this isn't the first protein bar to come from the veteran company. They've previously had the Complete Protein Bar and to be honest, the new Optimum Protein Bar doesn't differ too much from the other bar. The new Optimum Protein Bar is a 60g bar that offers (figures based on Cookies & Cream flavour):
211 calories
20g of protein
11g of carbohydrates
7.9g of fat
14g of fibre
For those who are used to tracking the macros of their products; the Optimum Protein Bar also resembles the ever so popular Quest Bars from Quest Nutrition. Having said that though, the bar is a decent snack bar that provides a solid amount of protein and is a decent snack alternative.
Optimum Nutrition Opti-Bar Flavours & Taste

The new ON Optimum Protein Bar is available in 4 different flavours including Double Chocolate Brownie, Strawberries & Cream, Cookies & Cream and Chocolate Peanut Butter. From the macros alone; we're expecting a similar texture style to that of the Quest Bars and the new Mission 1 Bars from Muscletech. We will of course update you when stocks arrive outside of Europe.
Optimum Nutrition Opti-Bar Release Date
As mentioned above, the Optimum Protein Bars from Optimum Nutrition have already been released in Europe. However, with its inviting packaging and its backing by such a dominant brand, we're expecting it to be available in other international territories such as Australia before the end of 2016; probably sometime around October or November.