Quick Optimum Nutrition Cake Bites Summary Points
Optimum Cake Bites are convenient protein snack bites that contain 20 grams, 240 calories, 25 grams of carbohydrates with 6 grams of sugar and 7 grams of fat with 4 grams of saturated fats.
Quick fix of protein that can be taken in between meals or anytime during the day.
Available in a 3-cake serving – convenient for portion control
Ideal as a pre or post-workout snack to promote faster recovery
Optimum Nutrition Cake Bites Review
Optimum Nutrition have been extremely busy releasing product after product and they don't seem to be slowing down any time soon. The next addition to the Optimum range include another protein snack item known as Optimum Nutrition Cake Bites. The protein snack category is growing at a phenomenal pace and Optimum Nutrition are clearly on the ball with their latest product. Bite sized protein bars, Cake Bites offer all the benefits of a traditional protein bar, but with greater surface area to include more of the delicious icing type coatings (arguably the best part of most protein bars).
Optimum Nutrition Cake Bites Highlights
Convenient snack between meals
20 grams protein per 3-cake serving
Tasty cake bites
Under 250 calories (depending on flavour)
Optimum Nutrition Cake Bites Ingredients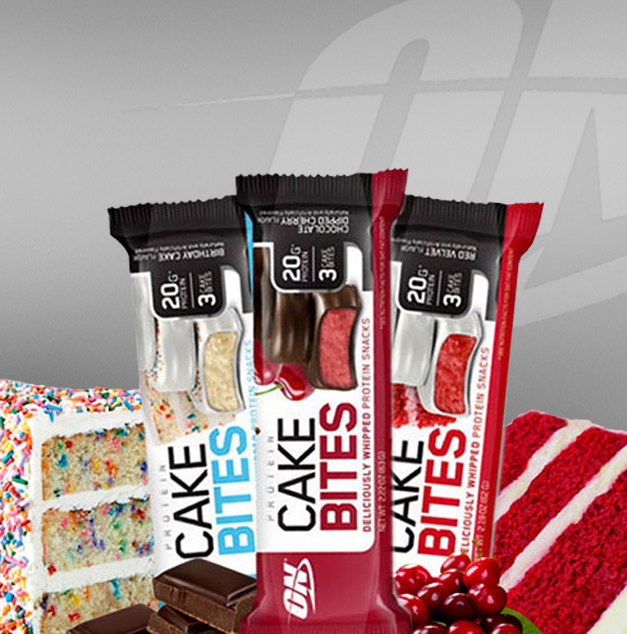 Serving Per Package 1
Serving Size 3 Pieces (63g)
240 Calories
20g of Protein (milk protein concentrate, whey protein isolates and milk protein isolates)
25g of Carbohydrates
7g of Fat (Saturated Fat – 4g)
0g of Dietary Fiber
The above figures are only for one of the flavours, but the other flavours shouldn't differ too much in terms of macronutrients provided. The Cake Bites are certainly not low carb, so are probably best used as a snack replacement or pre/post workout snack.

Optimum Nutrition Cake Bites Benefits & Pros

Optimum Nutrition Cake Bites are high in protein and contain less than 5 grams of sugar. Just looking at the macronutrients, these bites do seem reasonable for a snack. These cake bites are nutritionally sound and taste like a true dessert. Each packet contains 3 cakes per serving which is great for people who are watching their weight because of its portion control. Optimum Cake Bites all have a rich frosted coating and have less than 250 calories per serve. These snacks are indulgent and high in protein that can be taken as an extra source of protein or treat yourself to something sweet. It is another interesting way of getting more protein as opposed to protein cookies or protein bars.
Optimum Nutrition Cake Bites Cons
Whilst Optimum are known to produce solid products, there are a few areas in which they can improve on. The saturated fat content is on the higher end, with 4 grams per serving it isn't the best amount but it would be better if the fat content was formulated with a smaller amount. Because there isn't any fiber this may make the Cake Bites less effective compared to other protein bars that do contain fiber at keeping you satiated.
Optimum Nutrition Cake Bites Flavours & Taste
The Cake Bites are available in six various flavours which include Birthday Cake, Red Velvet, Blueberry Cheesecake, Chocolate Frosted Donut, Chocolate Mint, and Chocolate Dipped Cherry. Each flavour is sweet, distinct and have a similar texture compared to a protein bar. Birthday Cake delivers a sweet hit of classic birthday cake and candy flavour and is significantly chewy. Amongst the three flavours Birthday Cake and Red Velvet is the most popular flavours.
Optimum Nutrition Cake Bites Verdict
Optimum Cake Bites are definitely a great way for you to add protein and enjoy a treat at the same time. It is a quick, convenient source of protein that can be used as a meal replacement or if you're after extra protein to increase muscle and support fat loss.