Optimum Nutrition Cake Bites Facts
Optimum Nutrition have been extremely busy this year releasing product after product after product and they don't seem to be slowing down any time soon. One of their newest products set for release is another protein snack item known as Optimum Nutrition Cake Bites.
Optimum Nutrition Cake Bites Review & Ingredients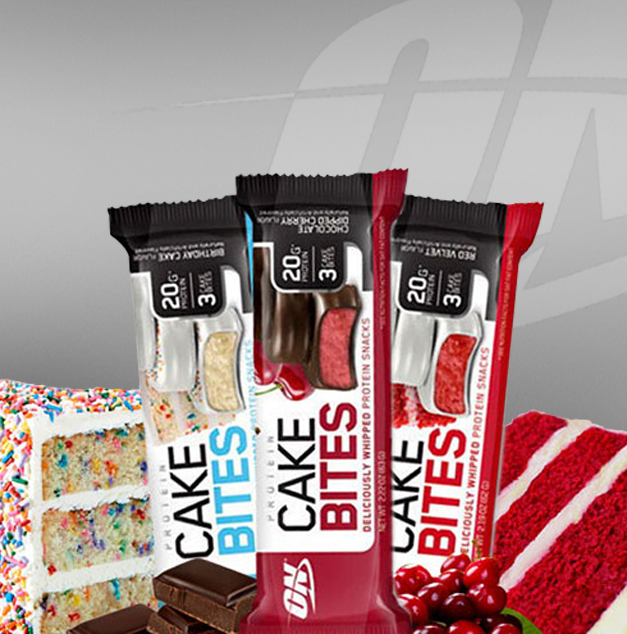 The protein snack category is growing at a phenomenal pace and Optimum Nutrition are clearly on the ball with their latest product. Bite sized protein bars, Cake Bites offer all the benefits of a traditional protein bar, but with greater surface area to include more of the delicious icing type coatings (arguably the best part of most protein bars). The full ingredients list isn't known, but we do know that each serve of 3 pieces provides:
240 calories
20g of protein
25g of carbohydrates
7g of fat
The above figures are only for one of the flavours, but the other flavours shouldn't differ too much in terms of macronutrients provided. The Cake Bites are certainly not low carb, so are probably best used as a snack replacement or pre/post workout snack.
Optimum Nutrition Cake Bites Flavours & Taste

The Cake Bites will be released in three flavours to begin with including Birthday Cake, Red Velvet and Chocolate Dipped Cherry. Image wise, they certainly look delicious, but we'll be sure to update you on the actual taste as soon as the product is released.
Optimum Nutrition Cake Bites Release Date
While no official announcements for a release date have been made, we do expect the Optimum Cake Bites to be released sometime before the end of 2016, at least in the US. As for other territories, don't expect it to appear till at least March or April 2017.