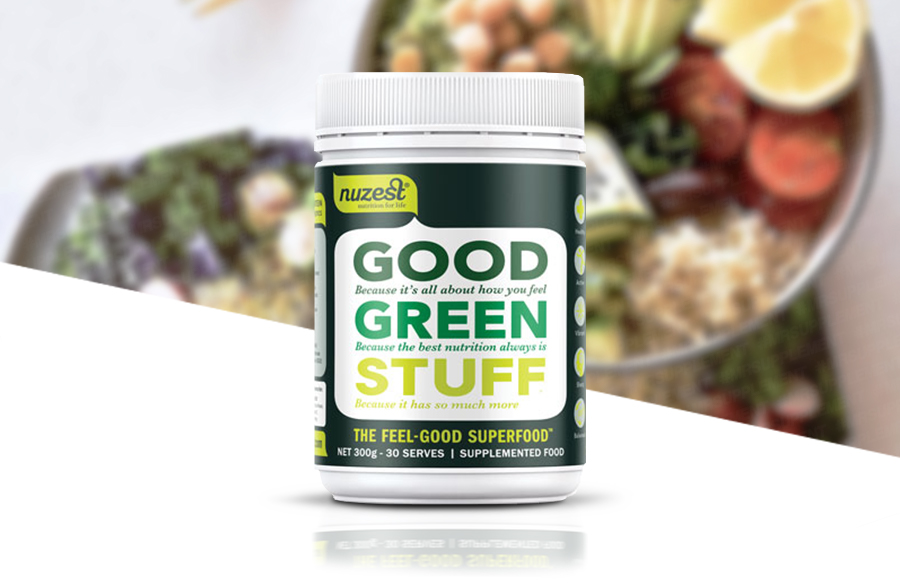 NuZest Good Green Stuff - Why take Good Green Stuff? Gluten Free, Dairy Free, Soy Free, GMO Free. It is a convenient and easy all-in-one solution for individuals looking for a nutritious supplement. With over 70 ingredients, Good Green Stuff is a Superblend of all your essential nutrients in one place. It takes away the guesswork.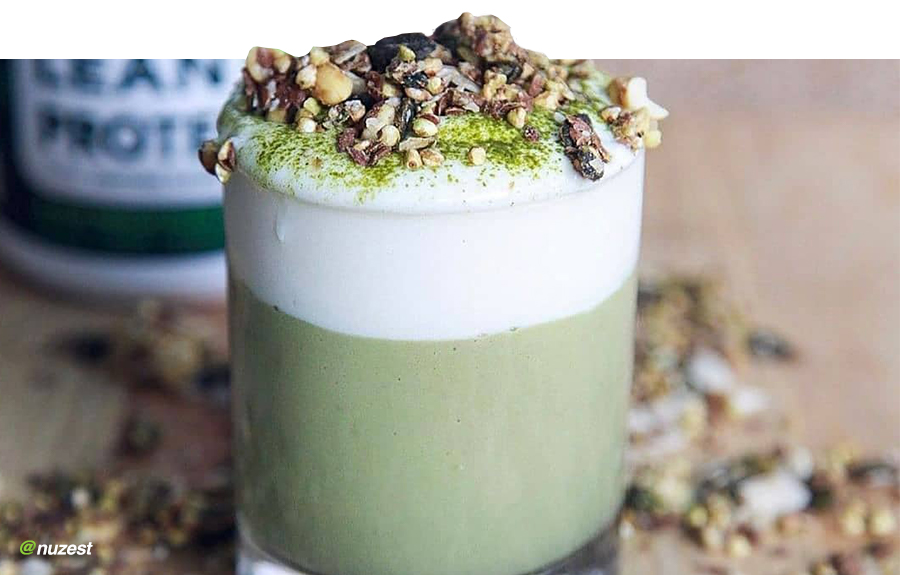 NuZest Good Green Stuff Benefits
Easy to Make - You just dissolve two heaped teaspoons into 250-300ml of non-acidic juice, or your favourite milk, or just water. You can blend in fresh fruits or Clean Lean Protein for a delicious smoothie.
Real Food Packed with Goodness - The real power of Good Green Stuff is in its high concentration of fruits, berries, vegetables, green algae, and herbs: – a potent blend of nutrient-rich and high antioxidant superfoods. This is real food, raw and alive as nature intended, not a synthetic multi-vitamin. It's nutrition that your body recognises and can use.
High in Antioxidants - Good Green Stuff contains the antioxidant equivalent of 8-10 servings of fruits and vegetables in one serve and it's cold blended so that enzymes and heat-sensitive nutrients remain intact.
Easy to Digest & Absorb - As a powder dissolved in liquid, Good Green Stuff is easier for your body to digest and absorb than tablets and capsules. It's also the most practical way to ensure a useful serving. It would take a great many tablets to deliver the equivalent goodness.
Supports Digestive Health, Liver & Stress - Contains pre-biotics, pro-biotics and enzymes to aid digestion, and ingredients to support your detox organs. Plus adaptogenic herbs to help recharge the adrenal glands (they help deal with stress).
Supports the Acid-Alkaline Balance - Even tiny improvements in the acid-alkaline balance are important to your wellbeing. The concentration of raw green superfoods gives Good Green Stuff an alkaline pH. And, it is fortified with minerals such as calcium and potassium which your body uses to combat acidity.
Sharpens the Mind - Good Green Stuff contains herbs and ingredients traditionally used to support the nervous system and help keep the mind in good shape.
Nutritional Insurance - Good Green Stuff does not replace a healthy diet but it does help to meet the challenges of environmental toxins, nutrient depleted soils, processed foods, fast foods, excess alcohol, fast-paced lifestyle and missed meals.
Great for Everyone - Athletes, mums, fussy teenagers, busy execs and Baby Boomers - everyone can benefit from their daily serve of Good Green Stuff. Perfect for Vegans and vegetarians. Suitable for Allergy Sufferers and Coeliacs.
Safe & Reliable - Good Green Stuff is blended in a GMP-certified facility that is registered and audited by the New Zealand Ministry of Health. Every ingredient is certified, and after blending every batch is tested for safe microbial activity, by an independent laboratory, before the batch is released.
There's No Bad Stuff
No Genetically Modified Organisms (GMO)
No Egg, Wheat, Gluten, Dairy, Corn, added Salt, Yeast, Peanuts or Animal Products
No Lactose, Sucrose, Dextrose or other added sugars
No Artificial Colours, Flavours, Preservatives or Sweeteners
No Herbicides, Pesticides, or Synthetic Chemicals
The blend of fruits combined with added stevia, pineapple juice and vanilla has resulted in a surprisingly pleasant taste when simply mixed with water. For a fruitier taste, mix Good Green Stuff with apple juice, or into a delicious smoothie with Vanilla Clean Lean Protein.
Key Features
All-in-one Nutrition - 75+ Ingredients for comprehensive nutritional support. So much more than just greens, Good Green Stuff is a potent blend of carefully selected fruits, vegetables and herbs - with added vitamins, minerals, probiotics, antioxidants and other essential nutrients. It packs a punch with over 75 of the very best ingredients for optimum health.
Quality without Compromise - Research-based formula with world class production. Independently formulated by a team of global health experts. The form of every ingredient is specifically selected for maximum bioavailability and efficacy. Regularly reviewed, and blended in world-class facilities. Every batch is tested before release.
Easy to Digest & Absorb - Powdered, real-food base. Ingredients your body is designed to absorb. Easier to digest than tablets or capsules and made from a base of real food, the nutrients in Good Green Stuff are supplied in the forms most easily recognised and used by your body. Every form of vitamin and mineral has been carefully chosen for maximum absorption.