Nutrex Outrage Review
Nutrex has been around for over a decade now, but their latest range of supplement additions has been their best yet. Best known for their speciality supplements in the fat loss and pre workout categories, one of Nutrex's most recent additions is the concentrated pre workout OutRage.
Nutrex Outrage Highlights

Extreme pumps with clinical doses of Nitrosigine and HydroMax
Boost vascularity and blood flow to muscles
Enhance focus and explosive energy
Simple, yet effective and tasty formula
Nutrex OutRage Review & Ingredients
Nutrex Outrage pre workout is a relatively simple supplement with only five active ingredients including:
HydroMax – 1.5g
Nitrosigine – 750mg
N-Acetyl-L-Tyrosine – 300mg
Caffeine Anhydrous – 175mg
Hordenine HCl – 75mg
Each 4.9 serving only has 5 calories, but packs a generous hit of each of the above ingredients. Nutrex Outrage is available in a 30 serve tub.
Nutrex Outrage Pros & Effectiveness
One of the best things about the latest range of Nutrex releases has been its complete transparent dosing. No more proprietary blends that make it hard to figure out whether the company has added enough of the actives to offer any benefit. Instead, Nutrex have paid attention to changes in the industry and have created a simple, research driven supplement that offers good dosing. Outrage is a supplement that focuses on two main outcomes, pump and energy/focus. They've used a combination of caffeine, hordenine and n-acetyl-l-tyrosine to provide a decent energy kick, whilst offering focus enhancing and anti-stress abilities from the n-acetyl-l-tyrosine. This version of L-tyrosine is considered one of the better tyrosine compounds due to its stable nature and better solubility.
The other two ingredients, HydroMax and Nitrosigine are both specially developed compounds that aid in increasing blood flow and nitric oxide levels to support a bigger, better pump.
Nutrex OutRage Negatives & Cons
There aren't too many negatives of Nutrex Outrage. Being a concentrated pre-workout, Outrage doesn't contain many of the other useful workout ingredients that their other pre workout Outlift contains. However, Nutrex have cleverly created two very distinct pre workouts that caters to a wider range of trainers. If you're after a serious energy kick, a sick pump and better focus, Outrage is for you. If you're after something to support longer workouts and endurance, you might need to switch over to Outlift.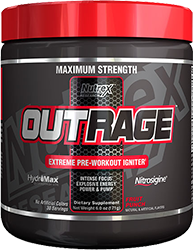 Nutrex Outrage Flavours, Taste & Mixability
Nutrex Outrage is available in 3 regular flavours and 1 exclusive flavour. These include: Blue Raspberry, Fruit Punch, Watermelon and Pineapple Strawberry. It's one of the more pleasant tasting pre workouts in recent time and mixes extremely easily. Blue Raspberry is one of the more popular flavours, but even the Fruit Punch, a notoriously bad flavour is still easy to drink. Overall, Nutrex have definitely improved the flavour profiles of their supplements over the years and it shows with the latest additions.
Nutrex OutRage Verdict
Nutrex Outrage is a cleverly designed pre workout that contrasts directly to their other pre workout Outlift. It's designed for those who want a quick energy kick, a decent pump and better focus and concentration. Those who are participating in longer workouts or more endurance styled workouts would do better with Outlift. If you want to better support a shorter, more intense and explosive workout though, Nutrex Outrage is the ideal option for you. Best thing about it, it won't leave you crashing towards the end.