Nutrex OutLift AMPed Review
Nutrex's Outlift pre workout is one of the jewels of the company's range thanks to its well dosed formula and use of some of the best ingredients on the market today. To provide some extra kick to their current formula, Nutrex are releasing an even stronger version known as Nutrex Outlift AMPed.
Nutrex Outlift AMPed Review & Ingredients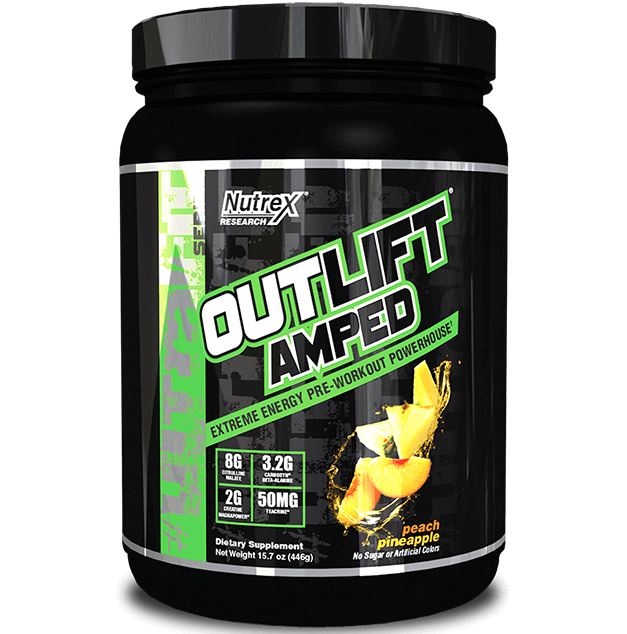 Few details have been released for the new Nutrex Outlift AMPed, however we do know that the bulk of the same base formula will still be present. Some of the ingredients you can expect to find include:
8g Citrulline Malate
3.2g Beta Alanine
2g Creatine MagnaPower
50mg Teacrine (Theacrine)
While Theacrine is a similar compound to caffeine and has effects which resemble that of other stimulants, 50mg isn't enough to qualify a whole new version of Outlift. As such, we're expecting some other strong stimulants to be a part of the matrix. As soon as all the details are released, we'll be sure to update our review.
Nutrex Outlift AMPed Flavours, Taste & Mixability
Nutrex Outlift AMPed is confirmed in a Pineapple flavour, however they'll most likely be at least 2-3 extra ones that will be released along with it. Expect to see your more common flavours such as Fruit Punch and Blue Raspberry just to name a few. The current version of Outlift tastes pretty good, but does cause a bit of frothing and fizz buildup, so it's best to mix with a spoon if possible. With the same base formula, expect to see similar qualities in the AMPed version.
Nutrex Outlift AMPed Release Date
The new Nutrex Outlift AMPed does not have any confirmed release dates, although it will definitely be released this year. A likely date will be sometime during September or October 2016.