Nutrex Lipo 6 Aqua Loss Review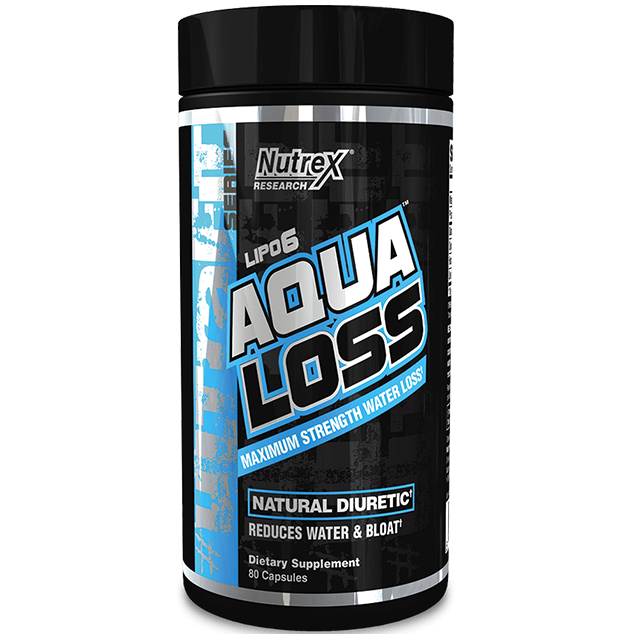 Quick Summary Points
Nutrex Lipo 6 Aqua Loss is a natural diuretic supplement to help reduce water and bloating
Aqua Loss can be stacked with Nutrex Lipo 6 Black to offer a more comprehensive weight loss tool
Benefits of using this supplement include reducing excess water in the body, achieving a more prominent muscle appearance and maintaining fluid balance
The herbal ingredients used are all-natural diuretics and is safe
Nutrex has long been a company known for their fat loss products with their Lipo 6 Black being one of the more popular and stronger ones on the market. To boost their range of specialty fat loss products, Nutrex have added a new diuretic into the mix known as Nutrex Lipo 6 Aqua Loss.
Nutrex Lipo 6 Aqua Loss Highlights
Stimulant free fat loss support
Natural diuretic to help reduce water and bloating
Available in capsules – convenient to take on the go
Enhance muscle definition
Nutrex Lipo 6 Aqua Loss Ingredients & Dosage
Nutrex Aqua Loss Ingredients include the following:
Magnesium (as Magnesium Taurate) – 11mg
Potassium (from Potassium Glycinate Complex) – 63mg
Dandelion Root Extract – 1g
Oxystelma Esxulentum (aerial parts) – 750mh
Horsetail Extract (whole plant) – 400mg
Uva-Ursi Leaf – 375mg
The blend of ingredients is all natural and help to eliminate excess water from the body. Aqua Loss formulation contains 1g of dandelion root extract which is a natural diuretic to eliminate bloating and help support water loss. Studies have demonstrated that Oxystelma Esxulentum, a natural Ayurveda herb, is also an effective diuretic. Available scientific evidence underline that its main advantage is the prolonged diuretic effect, lasting up to 24 hours after application.1
Nutrex Lipo 6 Aqua Loss Benefits, Pros & Effectiveness
Nutrex have put together a versatile supplement for the supplement and bodybuilding community. Aqua Loss is made up of a potent blend of over 2.5g of fully disclosed maximum strength herbal ingredients including dandelion root extracts, horsetail extracts and bearberry leaves to help you minimise bloating and remove excess water in the body.
Aqua Loss involves helping individuals improve the subcutaneous loss of excessive water in order to make the muscles more visible especially for those who are preparing for a photoshoot or a bodybuilding competition. The blend of ingredients is also biologically active which can be effective in fighting off infections and inflammations in the urinary system. Additionally, Aqua Loss contains added key electrolytes to maintain fluid balance, while shedding water. This is particularly important in maintaining muscle strength and fullness.
Another benefit for Aqua Loss is that it is stimulant free, perfect for anyone that is sensitive to stimulants that won't keep them up at night. The product is also only available in capsules which makes it a convenient option for anyone to take on the go.
Nutrex Lipo 6 Aqua Loss Negatives & Cons
There aren't too many negatives of Nutrex Aqua Loss but it is important to note that when you supplement with diuretics, it increases amounts of urine. Excreting larger amounts of urine in comparison to consuming water can lead to dehydration. The best recommendation of using this supplement is to ensure you are getting proper water supply.
Nutrex Lipo 6 Aqua Loss Flavours, Taste & Mixability
The Lipo 6 Aqua Loss will only be available in capsule form to start with, with each bottle containing 80 capsules.
Nutrex Lipo 6 Aqua Loss Verdict
Nutrex Aqua Loss relies on genuinely proven ingredients and transparent dosing that is perfect for individuals looking to reduce excess body weight or those suffering from bloating. Aqua Loss also offers users enhanced muscle definition with the addition of key electrolytes for healthy fluid balance. It is a commendable product that is stimulant free and works for both men and women. Although it may not be a staple supplement but it is a supplement that you can use to achieve a dry, lean and vascular appearance.