https://www.mrsupplement.com.au/nutra-life-triple-strength-garlic-c-horseradish?variation=14555
Nutra-Life Triple Strength Garlic + C, Horseradish + (100 Capsules)
Nutra-Life
Supplements > Health > Vitamins & Minerals
https://cdn.mrsupplement.com.au/resources/imgs/products/nutra-life-triple-strength-garlic-c-horseradish.1620262596948.png
http://schema.org/NewCondition
http://schema.org/OutOfStock
AUD
https://www.mrsupplement.com.au/nutra-life-triple-strength-garlic-c-horseradish?variation=14555
24.95
AUD
https://www.mrsupplement.com.au/nutra-life-triple-strength-garlic-c-horseradish?variation=14554
Nutra-Life Triple Strength Garlic + C, Horseradish + (50 Capsules)
Nutra-Life
Supplements > Health > Vitamins & Minerals
https://cdn.mrsupplement.com.au/resources/imgs/products/nutra-life-triple-strength-garlic-c-horseradish.1620262596948.png
http://schema.org/NewCondition
http://schema.org/OutOfStock
AUD
https://www.mrsupplement.com.au/nutra-life-triple-strength-garlic-c-horseradish?variation=14554
14.95
AUD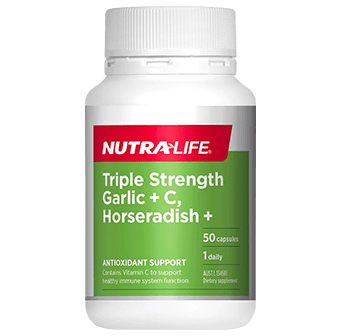 Triple Strength Garlic + C, Horseradish +
Anti-allergy and hayfever formula
Relieving the symptoms of hayfever and allergies
Relieving mucous congestion
Providing antioxidant support
In Stock

(0)
Write a review
Product
Q&A's
Reviews
Add To Cart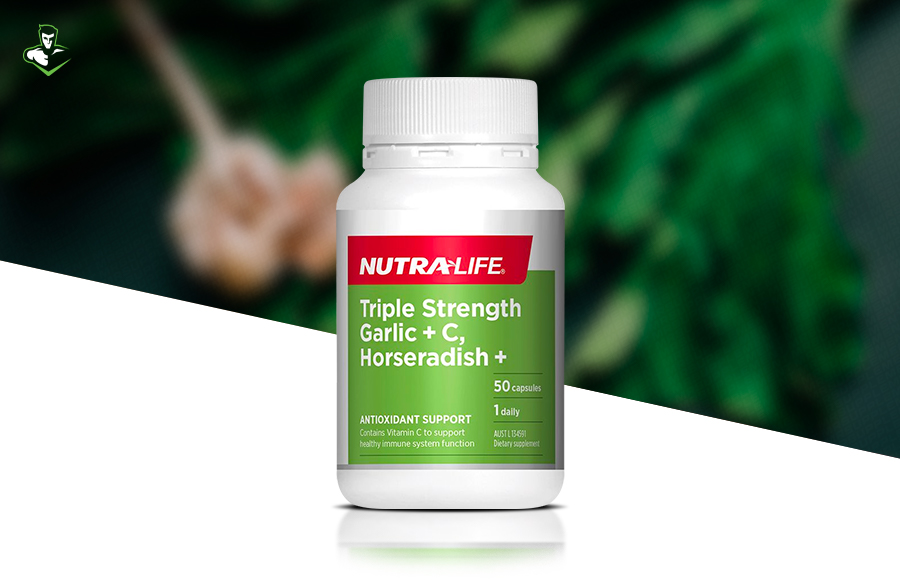 Nutra-Life Triple-Strength Garlic + C, Horseradish + is a high-strength blend of powerful traditional herbs and nutrients that support people who suffer from hayfever and non-seasonal allergies, and assist with symptoms. The formulation contains:
Perilla: Used in Traditional Chinese Medicine for antioxidant and anti-allergy support.
Horseradish: a hot, pungent herb that has been used
as both a spice and a remedy in Europe for centuries. Horseradish is a source of singrin – a natural compound that helps the body to keep the nose, sinuses and respiratory tract congestion-free.
Garlic: one of the world's most widely-known healing plants. Garlic supports the upper respiratory tract, and also contains special Sulfur compounds that help the body to keep the nose and respiratory passages clear.
Marshmallow: a herb that contains mucilage (a soothing natural substance) plus other compounds that assist the body in calming irritated or swollen respiratory
tract membranes.
Vitamin C: the "immunity" vitamin. Vitamin C helps to support the immune system, and also acts as a powerful antioxidant that helps to protect the body against free radical damage.
Q&A's
Ask a question about
Nutra-Life Triple Strength Garlic + C, Horseradish +
Reviews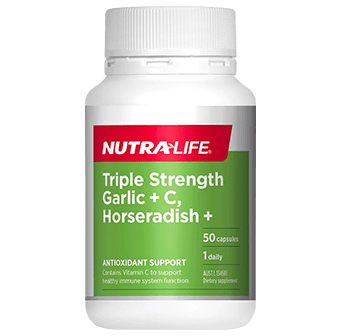 Based on reviews collected by
&
Write a review

Contact Us